Jesus L'Oreal: Nailed It
Gilded Balloon, Edinburgh.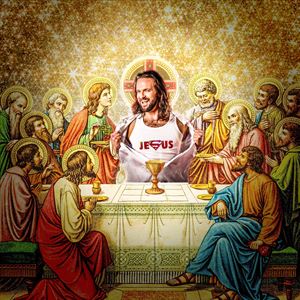 - The entrance to the Gilded Balloon Basement is on Rose Street Lane South.
- Accessibility: the GB Basement is accessed by 12 stairs down. For more information about accessibility head over to our Accessibility page
- Doors open one hour prior to show start time (including the bar and box office). So come on down early and grab a drink and seat!
- We have a lovely wee bar with a wide selection of drinks and snacks.
More information about Jesus L'Oreal: Nailed It tickets
Having told his backstory in the award nominated "Christ on a Bike" and demonstrated the wonders of Pontius Pilates in "Cross Fit", your sassy King of the Shoes, Jesus L'Oreal, returns once again to complete the Holy Trinity with another high-octane show of song, dance and Jehovah's Fitness.
Times up! Is your missionary position guaranteed in the kingdom of Hosannadu? Let's rapture.


'Enough to make anyone proclaim Halleberrylujah' **** (List).