Jewish Heritage Private Grand Tour
Dohany Street Synagouge, Budapest.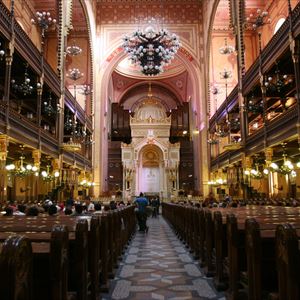 The tours can be booked 48h in advance. If you would like to book within two days, please call our main office at the following number: +3613171377 to confirm availability in advance.
Please be at the meeting point at leats 15 minutes before the tour starts.
More information about Jewish Heritage Private Grand Tour tickets
We created our private tours service for those people, who want to have an intimate experience about the Hungarian Jewish culture and the incredible amount of Jewish heritage the city of Budapest can offer. Your very own private tour guide will lead you through the most important and exciting parts of the Jewish district. This way you can have a more personal, insight look into the Jewish life and culture of Budapest, and have inward conversations with a professional local guide about the country's history and their own, personal experiences.
With this 4.5 hour long tour, you can be sure that you will get all the information you would require about the Jewish aspects of Budapest. It includes visit to the Dohány Street Synagogue, the Rumbach Street Synagogue (outside visit) and the Kazinczy Street Synagogue. At the end of the tour, be our guest for a cake in a famous kosher confectionary, or receive 10% off at a Jewish restaurant!
1- Deák Square – Gabor Sztehlo Monument
2 – Madách Square – History of the Orczy House
3 – Rumbach Street Synagogue outside visit
4 – Jewish Museum with local guiding, where you can see a unique collection of art pieces from Hungary and Eastern Europe, and the rich tradition of Judaism, its holidays and everyday life. A separate room is dedicated the Holocaust in Hungary.
5 – Interior visit at the Dohány Street Synagogue which is the largest operating synagogue in Europe and the second largest in the world.
6 – Martyrs' Cemetery
7 – Raoul Wallenberg Memorial Park
8 – Tree of Life Memorial
9 – Heroes' Temple – (outside visit)
10 – Jewish Center where you can visit the Family Research Center11 – Carl Lutz Memorial Park dedicated to the Swiss diplomat who is also known as Hungary's Schindler
12 – Rumbach Street Synagogue (outside visit)
13 – Madách Square – the history of the Orczy house
13 – Gozsdu Passage
14 – Orthodox Jewish Quarter
15 – Interior visit of the Kazinczy Street Synagogue, the only one built in Hungarian folklore style
At the end of the tour (or in the break) you have two options: you can accept our invitation to have a cake in the glatt kosher Fröhlich confectionery or you can receive 10% discount in the glatt kosher Carmel restaurant.