Jim Crumley - Seasons in the Wild
Falkirk Trinity Church, Falkirk.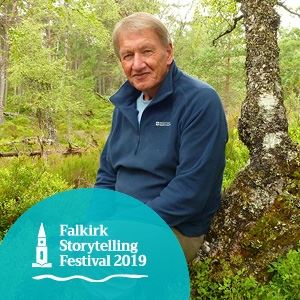 More information about Jim Crumley - Seasons in the Wild tickets
Falkirk Storytelling Festival brings nature writer, Jim Crumley, to Falkirk Trinity. Longlisted for the Wainwright Prize, serialised on BBC Radio 4 as Book of the Day, Jim has struck a chord with a wider audience than ever in his seasons tetralogy. The Nature of Autumn is a pilgrimage through the shapes and shades of this enchantingly beautiful season; yet it's also a period for reflection – melancholy, even – as the days shorten and winter's chill approaches. Jim experiences the deer rut, finds phenomenal redwood trees in the most unexpected of places, and contemplates climate change, the death of his father, and his own love of nature. During winter, dark days of wild storms can give way to the perfect, glistening stillness of frost-encrusted winter landscapes – it is the stuff of wonder and beauty, of nature at its utmost. In The Nature of Winter, Jim ventures into our countryside to experience firsthand the chaos and the quiet solitude of nature's rest period; he evokes winter in all its drama, in all its pathos, in all its glory. Spring is nature's season of rebirth and rejuvenation. Earth's northern hemisphere tilts towards the sun, winter yields to intensifying light and warmth, and a wild, elemental beauty transforms the Highland landscape and a repertoire of islands from Colonsay to Lindisfarne. Jim chronicles the wonder, tumult and spectacle of that transformation, but he shows too that it is no Wordsworthian idyll that unfolds. Climate chaos brings unwanted drama to the lives of badger and fox, seal and seabird and raptor, pine marten and sand martin. He lays bare the impact of global warming and urges us all towards a more daring conservation vision that embraces everything from the mountain treeline to a second spring for the wolf.
Jim Crumley has written more than thirty books, mostly on the wildlife and wild landscape of Scotland. His work has been shortlisted for prestigious awards such as the Wainwright Prize and the Saltire Society Literary Awards. Jim is a widely published journalist and has a monthly column in The Scots Magazine, as well as being a poet and occasional broadcaster on both radio and television. He lives in Stirling.