Jo-Jo & The Teeth Single Release + Healthy Junkies Tickets
The Camden Assembly, London.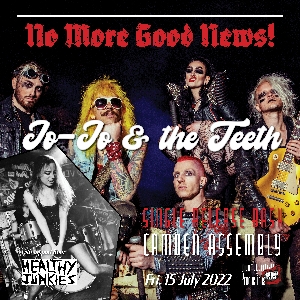 This event is for 18 and over - No refunds will be issued for under 18s.
More information about Jo-Jo & The Teeth Single Release + Healthy Junkies tickets
WELCOME BACK TO THE CAMDEN ASSEMBLY to celebrate the release of our NEW SINGLE…
No MoRe GooD NeWs'
LEGENDARY DJ
Peter Fox of Foxy
Radio will be divinely guiding us through this fine evening with only the greatest tunes to keep yer feet movin'
Kicking off the night the RIGHT WAY with Kyran Thrax!!!
A beauty, talent and an undiagnosed sweat condition. She is the intersection of drag and theatre. All singing, all dancing, all stupid.
HEALTHY JUNKIES
Tearing up the stage
Mixing Punk Rock with Grunge, Psychedelic Rock, New Wave, Garage, Glam and Goth Rock, add a soupçon of theatre and you have Healthy Junkies.
JO-JO & THE TEETH
'If you amped up the visceral attitude in Stevie Nicks' vocals to 11, they'd still pale in comparison to the hooky veracity of Jo-Jo O'Donoghue's blisteringly hot pop-rock vocal lines. That's probably blasphemy, but I'll prepare to repent for it to do Jo-Jo & The Teeth justice. It's the least I could do given that she has given rock n roll an Americana iteration of Peaches.'
Amelia Vandergast - A&R Factory
A glamorous Art Rock rebirth forged by the collision of a Canadian powerduo and a fierce Isle of Wight Trio. This transatlantic marriage à-la Fleetwood Mac, blend and bend inspirations from every corner of music. A dark & moody forward driving sound, intimately rooted in good old fashioned guitar rock and roll. Jo-Jo & The Teeth conjures an arena sound and spectacle, woven together with velvety bluesy depths and moments of breezy pop sentiments.
We can't wait to celebrate with all you BEAUTIFUL PEOPLE!!