John Law's Congregation (Basement Jazz Club)
The Basement, York.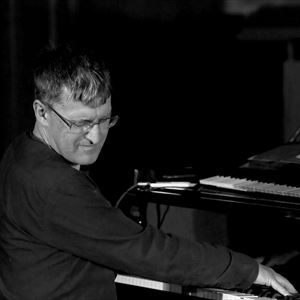 Doors: 20:00
The Basement Jazz Club
More information about John Law's Congregation (Basement Jazz Club) tickets
Basement Jazz Club is delighted to put on this special show with John Law's Congregation, now featuring James Mainwaring (Roller Trio) on a triple threat of sax, jazz and electronics.
- - -
John Law's Congregation
John Law: piano, keyboards, electronics
James Mainwaring: saxophones, guitar, electronics
Ashley John Long: bass
Billy Weir: drums
New formation of John Law's quartet project Congregation, which recorded the outstanding double CD These Skies In Which We Rust (33Xtreme006). Combining intricate yet strong, highly melodic acoustic instrumental compositions with electronic compositions and subtle ambient textures, John Law's music treads a path between contemporary jazz, rock and his original classical background, to produce highly visual music, almost filmscapes, each one in its own particular emotional and timbral area.
John Law's Congregation brings together three outstanding young musicians from the world of contemporary jazz, each of them highly skilled in many musical genres. Featuring the young musician James Mainwaring, from Mercury Prize jazz winners and European Jazz Competition finalists Roller Trio, who will be playing both saxophone and guitar, and adding subtle electronic textures and loops to the music. Ashley John Long is one of the most in-demand young bass players in the UK; a musician of great depth and knowledge, as well as instrumental virtuosity, he is also a classical virtuoso, playing in many contemporary and baroque ensembles, as well as one of the most exciting avant-garde players, performing freely improvised music.
The brilliant young drummer Billy Weir, fresh out of music college, is one of the new breed of drummers who is equally at home in complicated time signatures and metric changes as well as within the function of a simple, joyous groove!
Alongside concerts and workshops in the UK the quartet's recent tours have taken them all through Germany and recently on a PRSF/Arts Council/British Council funded tour of India. Plans for 2019/2020 include more European work plus visits to Japan, China and USA.
The quartet will be presenting compositions recently recorded at the prestigious Real World Studio in early March, due for release in the autumn.
"One of the UK's most imaginative and versatile pianists"
International Piano Magazine 2014
"...combining the vocabularies of jazz and classical in a singular and seamless way, coalescing improvisational surprise and a deep elegiac musicality..."
All About Jazz 2011
"...so full of joy that it can renew your faith not just in jazz, but music itself."
Phil Johnson, Independent on Sunday 2011
"John Law remains one of the under-recognised giants of British modern jazz/new music piano"
Downtown Music Gallery, New York
"A brilliant new group…a band heading for great things!"
John Fordham, The Guardian
"When he records for ECM he'll become a star!"
Jazzthetik, Germany