Jon Langford's Four Lost Souls + Men of Gwent
The Cedar Room, Manchester.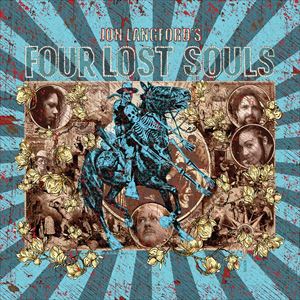 This event is for over 18s only - No refunds will be issued for under 18s.
More information about Jon Langford's Four Lost Souls + Men of Gwent tickets
Jezebel Music are honoured to be bringing Jon Langford back to Fred's Ale House in Levenshulme, the scene of 2016's Langfest. Two of his bands, Four Lost Souls and Men of Gwent will play live.
Jon Langford's Four Lost Souls

Carted to Alabama under the cloud of dark politics, a band drew a glistening straight line from punk to country to soul to grand theater. On November 8th, the day after the 2016 election, Welsh-bred, Chicago-based musician and visual artist Jon Langford1 and a crew of merry-makers and alchemists filed into the NuttHouse studio, a one-story former bank building in Sheffield, Alabama. The musicians from Chicago, Nashville, Los Angeles, and just over the Tennessee River bridge made the pilgrimage to a place of legend and myth, where music runs as deep as the river's current, to see what might come of it all.

Four Lost Souls, recorded over four days, originated in 2015, 100 miles north in Nashville where Langford produced artwork for Dylan, Cash, and the Nashville Cats: A New Music City, the long-running exhibit at the Country Music Hall of Fame. Fate had it that one of those Nashville Cats, bassist and producer Norbert Putnam, was so enamored with Langford's paintings and piratey singing, he invited the stranger to come record in the Shoals.


Jon Langford's Men of Gwent

Chicago-based Jon Langford's all-star Men of Gwent have recorded a bittersweet love letter to Wales: The Legend of LL (Country Mile Records). Langford was a founding member of The Mekons, who has since enjoyed a prolific career in the USA as a musician (Three Johns, Waco Brothers) and an artist. Since moving to the US in 1992, he has kept in touch with fellow musicians in his home town of Newport, through transatlantic song writing (and occasional gigging). The songs mainly focused on Newport, and were shot through with humour and a bit of politics.

New material was written for the album, which is played by an extended line-up: with Langford joined by Matt Gray, Julian Hayman, Mark Price, Erik Stams, Barkley McKay and Guto Dafis. Recorded and produced by Richard Jackson, this self-styled concept album takes the listener on a personal tour of Wales. Adrian Street is a tribute to the flamboyant Welsh Wrestler from Brynmawr who found fame in the glam rock era, Duw its Hard laments a pithead bar becoming a supermarket now, while Dirty Grey River paints a picture of industrial decline. There are upbeat takes on maypole dancing, sea shanties and drinking songs (Pill Sailor, Coves of Aberystwyth, Prince of Ales), and a historical cross-dressing musical sketch (Rebecca Been in a Riot). The Ballad of Solomon Jones is a narrative song about the Chartist Uprising of 1839.

Great tunes abound, and you might find yourself singing along with the song about a theme park Wales of mining museums, children's farms and identikit family-dining pubs (Llamas in Llanyrafon). Incidentally, to pronounce the album's title, go with the 'Ll' in Llanyrafon.