Jools Holland's Boogie Woogie & Blues Spectacular
Boisdale Of Canary Wharf, London.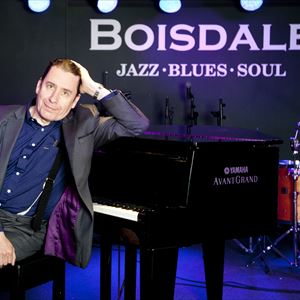 More information about Jools Holland's Boogie Woogie & Blues Spectacular tickets
Jools hosts a piano pounding extravaganza featuring his choice of world class kings of the keyboard.
There'll also be an array of special guests and accompanying them all will be Jools's old buddy who's worked alongside him since the days of Squeeze, drummer Gilson Lavis.
The spectacular climax featuring all the pianists in a Boogie Woogie battle has to be seen to be believed! Don't miss!
Confirmed Artists:
Jools Holland
Jools Holland is back at Boisdale to host a memorable night performing with some of the world's greatest boogie-woogie masters (one of the highlights was Jools being joined by his three guests on an eight handed boogie-woogie work out! – see the video above). Now he's back again with some of his favourite musicians for another night of piano pounding excitement with German piano wizard Axel Zwingenberger, master of stride piano Neville Dickie as well as Tom Seals. The evening will also feature the rhythm section from the Jools Holland Rhythm and Blues Orchestra.
Axel Zwingenberger
Pianist Axel Zwingenberger from Hamburg has been a master of the boogie woogie for more than four decades. With his passion for the »hottest music ever invented for the piano« and his dedication to preserving this almost-forgotten form of Afro-American folk music, Zwingenberger has made an invaluable contribution to the revival of the boogie piano scene in central Europe.
Neville Dickie
Neville is one of the World's finest exponents of Stride piano and Boogie Woogie. Equally respected in Britain and the United States of America
Tom Seals
His virtuoso solo-ing, excellent improvisation skills as well as a distinctive voice have left top industry officials hailing him as one of the UK's finest Blues/Boogie-Woogie piano/vocalists.
The mantle of UK Piano Man has been dominated by Elton John, Jools Holland and Jamie Cullum over the past five decades and no one else has come remotely close – until now that is!
Fresh from his sell-out "Let The Good Times Roll" Tour - Tom Seals, "quite possibly the future of Jazz/Blues and Pop", literally has the world at his fingertips.
Dave Swift
Jools Holland's bass player since 1991
"As Jools Holland's bassist for over two decades, Dave Swift is arguably the UK's highest-profile bass player."
Please be seated by 7 pm for 7.30 dinner.

Jools Holland, Boisdale's Patron of Music presents the best in jazz, blues and soul.
About the venue: https://youtu.be/SJhROJnoJLQ

Boisdale of Canary Wharf is a two-floor venue overlooking Cabot Square which comprises a restaurant, four private dining rooms, Oyster Bar & Grill and Cigar Terrace, the world's greatest Whisky Bar, and the best live music in the capital.

"London's number one jazz venue" Tatler
"Best Whisky Bar in the World" Whisky Magazine
"A carnivore's dream" Evening Standard
"Aged steaks are deemed incredible" Square Meal
"The world's most individualistic style bar & restaurant" Hot Tickets

FOLLOW US:

Facebook: https://www.facebook.com/BoisdaleRestaurants
Twitter: https://twitter.com/boisdaleCW
Instagram: https://www.instagram.com/boisdale_uk/