Joshua Burnside
Nells, London.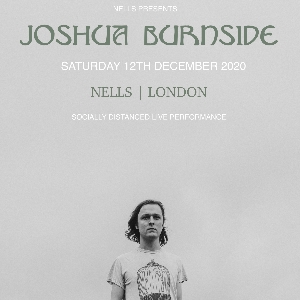 SOCIALLY DISTANCED SHOW W/ LIMITED CAPACITY
Nell's
3 North End Crescent,
West Kensington,
London
W14 8TG
Nearest Tube -West Kensington (3mins)
Bus -74, 190, 430, N74 & N97
More information about Joshua Burnside tickets
There is a man in an attic somewhere at four in the morning. He is shaking knives in a biscuit tin, stomping and shouting, pitch bending, coding, looping, plucking banjos and squeezing accordions, layering sound upon sound like a demented chef creating a monstrous cake, a swirling dream of colours and visions of the apocalypse.
Experimental folk artist Joshua Burnside is something of an anomaly. With a brooding, powerful sound echoing artists of places afar and time long gone, his enthralling craft strives towards an aesthetic as much as visual as it is sonic. Balanced with a diverse palette of sounds, Burnside deftly blends alt-folk and elements of the Irish folk song tradition with South American rhythms and Eastern European influences, whilst introducing synthetic and found-sounds, synths loops and crunching beats to create a stormy world that shifts and swirls perspective like a lingering lucid dream.
Joshua released his debut album 'Ephrata' two years ago via Quiet Arch Records. A critical and commercial success, the unique mix of Irish traditional, Latin, European folk and Americana music that fuelled the emotional core of his inaugural release earned Joshua the 'Best Album' award at the Northern Irish Music Prize.
After his time spent touring 'Ephrata' around the UK and Ireland, Joshua returned home to experiment in his studio. Joshua is currently using post-punk and electronic recording methods to push the boundaries of his beloved folk music and make a sound unique to the 21st century, one that echos the uncertainty and humanity of the times. Joshua's second studio album is set for release in 2020.