Joshua Radin & William Fitzsimmons
Nells Jazz & Blues, London.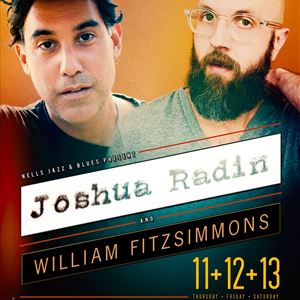 3 North End Crescent
West Kensington,
London.
W14 8TG
West Kensington (3mins)
Bus - 74, 190, 430, N74 & N97
After you buy, click Split It With PayPal

to easily split ticket money with friends.
More information about Joshua Radin & William Fitzsimmons tickets
Joshua Radin
Radin, born in Cleveland and now living in LA released his last studio LP, "The Fall" in 2017 and is currently working on his next LP due out late 2018 Love and the complications surrounding it have long proven to be Radin's songwriting forte. Though he never intended to be a live performer, there was little choice when the first song he ever wrote, "Winter," was featured on an episode of "Scrubs." The resulting fervor around the song soon led to a record deal. Over the last decade, Radin's toured the world countless times, sold ¾ of a million records and topped the iTunes charts. Joshua earned raves from Rolling Stone, performed on The Tonight Show, Jimmy Kimmel, Conan, Ellen, The Today Show and played at Ellen DeGeneres' wedding at her personal request. He has had his songs featured in more than 150 different films, commercials, and TV shows.
.
"The Fall" was my seventh studio album but it was the first album I had produced myself, so it felt like the most honest work I released in my twelve-year career." Says Radin.
2018 Radin will be hitting the road. Kicking the year off with a US run in March of 2018 followed by China, Australia and New Zealand later in the spring. Joshua will end the year with a European, UK and US run.

William Fitzsimmons
William's father was born to a woman who would go on to have 5 children, none of whom she raised. Some were taken into custody of the state of Pennsylvania. Others were placed for adoption. William's father, as an infant, was returned to the hospital dangerously sick with whooping cough. He was left there for several months. No one from his family would ever return for him. Finally, many months later, he was adopted by a kind doctor who became his father. Never knowing his birth family, or why he was left, it was assumed that mystery would remain forever. And thus this story was written upon William's father, and from him, written upon William.
In 2015, after over 60 years of wondering and waiting, the family was finally found. William's biological grandmother having deceived the remainder of the family by telling them the baby died at the hospital, William's father was never sought out. Sadly his mother passed away several years before having a chance to ever see her lost son again. Or ever meet the sons which came from him.
In the last two years William has lost both of his grandmothers. One died only last year, the other nearly thirty years ago. Yet both losses are fresh. One was a steadfast presence in William's life from the moment he was born, the other a ghostly figure of a long forgotten story. Yet both have in a way always been there, one in her presence the other, her absence.
Loss, painful though it is, offers a unique and potent opportunity for the kind of emotional clarity that only comes a few times during our lives. It forgets that which doesn't matter and fans the flame for what does. It burns us with the names of those who gave their good years so that we might have our own.
William never had the opportunity to meet or know his grandmother Thelma. In writing these pieces he hopes to do so in some small way. She was from Charleroi, Pennsylvania. These songs are about her.