K.O.G Tickets
Brudenell Social Club, Leeds.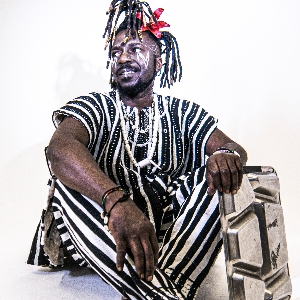 14+ only. 14s to 15s must be accompanied by an adult. No refunds will be given for incorrectly booked tickets.
More information about K.O.G tickets
After a blazing sold out show at Brudenell in November 2021 with his explosive afrofusion band K.O.G & The Zongo Brigade, the main man/bandleader/vocalist K.O.G. is back at the venue on 12th March 2022 to launch his debut solo album "Zone 6, Agege" on French label Heavenly Sweetness. Once again, many of the great musicians from the Zongo Brigade join him live on stage to perform new original music written and produced by K.O.G.

Kweku Sackey aka K.O.G (Kweku of Ghana) is a multi-dimensional creative force, combining exquisite writing skills with shamanistic live performance, fierce raps, perfectly on pitch singing across a massive vocal range and some absolutely wicked dance moves. Not to mention his skills as a percussionist, arranger, bandleader and art director. A true poet and storyteller, he uses a mix of English, Pidgin and Ga to paint sonic pictures that reach deep into the souls of everyone ready to listen.


Born in Accra, Ghana, he grew up with a diverse range of international influences alongside Ghanaian styles. Resident for over 10 years in Sheffield, UK, music has taken him to perform in 15 countries at huge stages all over the world. Kweku is deeply aware of his heritage and of his role as an ambassador both through space and time, negotiating culturally both between African and Western influences and between the traditional and the modern. To quote him directly - "I view MUSIC as a major WEAPON in the BATTLEFIELD for PEACE of MIND in the world".

Always open to new innovations and ideas while firmly rooted in a deep lineage. This openness has informed collaborations over the years with a wide wide range of producers and writers, including iZem, Afriquoi, Scrimshire, Congo Natty, Dark Sky, Dizraeli, Chiminyo, Tongue Foo and Umoja to name a few.

A prolific writer and collaborator, he is the lead vocalist for afro-futurist project Onipa (Strut Records, Wormfood), band leader/vocalist/percussionist for hi-life/hip-hop/afro-funk band K.O.G & The Zongo Brigade (Heavenly Sweetness), as well as collaborating extensively for years with top UK jazz/global beats stars Nubiyan Twist. His song 'If I Know' off their "Freedom Fables" album (Strut, March 2021) was performed live on Later With Jools Holland and A playlisted twice on BBC6 Music.

He will launch his solo album "Zone 6, Agege" on 25th February 2022 on the French label Heavenly Sweetness. It's co-produced by master French producer Guts (Alliance Ethnik) and longtime friend and collaborator Tom Excell (Nubiyan Twist, Onipa). Watch out for the debut single from the album "Shidaa" dropping digitally worldwide on 8th December 2021.

MEDIA QUOTES

"Ghana's finest" – Jools Holland, Later with Jools Holland, BBC2, March 2021

"...highlights include the riotous beats and irresistible delirium of Onipa, whose rogue strain of griot hip-hop and charismatic frontman KOG had the entire marquee beaming" – The Guardian, March 2019 (review of Damon Albarn's Africa Express)

"KOG and Tom Excell reach for the stars together as Onipa" Metro, April 2020 (review of Onipa album)

"A searing, righteous piece of afro-futurism with a funky edge, a vibrant, rhythmic club burner that refuses to sit in one place" – Clash, March 2019 (review of K.O.G & the Zongo Brigade album)

"An effervescent, life-affirming Pan-African tour" Mojo, April 2020 (review of Onipa album)