K-Pop All Night Party Tickets
The Warehouse, Leeds.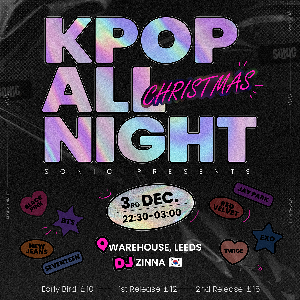 More information about K-Pop All Night Party tickets
Immerse Yourself in the Rhythm of K-pop Wonderland!

Get ready for a night of unparalleled excitement as we bring the magic of K-pop to life! Join us in a mesmerizing journey through the beats and melodies that have captured hearts worldwide. Immerse yourself in the vibrant energy of the dance floor, where passion meets music, and memories are made.




PLEASE NOTE OVER 18s ONLY




Proof of age always required. Bring Valid Photo ID: Passport/Driving licence/BRP Card Music: KPOP with DJ Zinna from Korea


What to Expect:
Unforgettable performances by top-notch dance crews, each bringing a unique flavor to the K-pop stage.
Our sensational DJ, the brilliant Zinna from Korea, will guide you through a sonic adventure spanning the best of K-pop hits and chart-topping tracks.
Be part of a community united by a shared love for K-pop – where the music transcends boundaries and the dance moves ignite the night.

Dress to Impress:
Let your inner K-pop star shine! Whether you're rocking the latest idol-inspired fashion or showcasing your unique style, the dance floor is your runway.

Secure your spot now and dance the night away with DJ Zinna, directly from the heart of Korea!