KAST OFF KINKS
Eel Pie Club, Twickenham.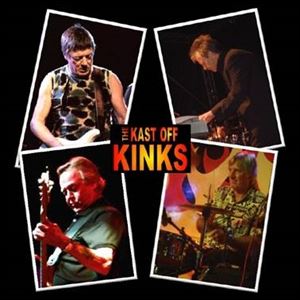 More information about KAST OFF KINKS tickets
The iconic British rock band, THE KINKS, is often cited as one of the most important and influential rock bands of all time. The Kast-Off Kinks is NOT A TRIBUTE BAND! The band contains 3 actual Members of THE KINKS. Original drummer, Mick Avory, who joined The Kinks (at that time still called The Ravens) in 1964, who is still regarded to this day as the backbone of the original Kinks, is joined by John Dalton, bassist with The Kinks from 1969 until the late '70's, and keyboard player, Ian Gibbons, who was with The Kinks for 17 years and still plays and tours with Ray Davies. By fans, Ian is regarded as the best keyboard player of The Kinks. The fourth member and only non-Kink is Dave Clarke (ex Noel Redding Band), taking the place of the Davies brothers. http://kastoffkinks.co.uk. Almost every other ex-Kink has guested with The Kast-Off Kinks, including Ray Davies.