Ken Hoon (feat. Jack Yardley) x Wandering Monster Tickets
Brudenell Social Club, Leeds.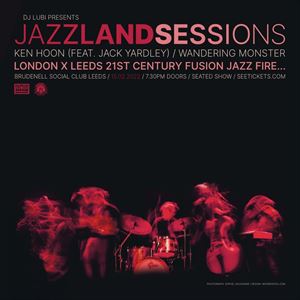 Please note, this is a seated event.
More information about Ken Hoon (feat. Jack Yardley) x Wandering Monster tickets
"Jazzland Sessions" shows at Brudenell Social Club Leeds restart in 2022 with the first event February 15th featuring two of the UK's top jazz fusion bands : Jack Yardley's Ken Hoon (London) and Wandering Monster (Leeds).
Ken Hoon is the solo jazz project by Jack Yardley, the highly rated award winning drummer and composer based in London. After initially studying jazz at Leeds College of Music, he won a scholarship in 2012 to the Guildhall School of Music to do a postgraduate degree. Two years later, after he received his Masters degree with distinction, he launched himself full time into the resurgent London jazz scene as a professional musician. Over the next few years, he became an in-demand side man playing with the likes of Duncan Eagles/Edgar Jones/Alex Hitchcock, received a Help Musicians Postgraduate Jazz Award, ran two successful weekly jam sessions in the capital (one in Twickenham and the other in Pimlico) and played drums in London eclectic jazz combo Merv.
In 2019, his first foray into bandleading would be a quintet under his own name but that quickly became Ken Hoon. The music played by the band is a representation of Jack's influences down the years, from Coltrane to Mark Guiliana to name but a few. The band toured the country at the back end of that year playing gigs across London and also in Nottingham, Cardiff, Bristol, Leeds, Ambleside and London Jazz Festival. Their progress and development was temporarily halted as music was switched off for 15 months due to the pandemic but they returned in September 2021 with a new double digital single.
"Dreamland" dropped in September 2021, a huge contemporary jazz track featuring not one but two tenor saxophones, a blazing rhythm section and led with fire from the kit by Jack's intense polyrhythmic playing. The band features Ben Vize on tenor saxophone (Pyjaen), Jake Burgess on tenor saxophone (Mark Cake), Lyle Barton on piano (Emma Jean Thackray), Matt Gedrych on double bass (Neue Grafik). The second track "Langdans" is a chilled but haunting acapella theme for two saxophones based on a Swedish folk song before spontaneously combusting into a dark and heavy freeform blowout. Two great original tracks that served as an introduction to the music of Ken Hoon and received strong DJ/show support on radio via stations including Jazz FM, Worldwide FM, Totally Wired Radio, Universal Rhythms Radio, Reform Radio, Netil Radio, Shoreditch FM and Global Soul Radio. The second single will be released in February 2022 for this date and a mini-UK tour.
Leeds quintet Wandering Monster are well known in contemporary UK jazz circles for their unique sound bringing together acoustic and electric jazz elements fired up by rock music energy. Featuring some of the top jazz players in the city, their live shows are always a memorable experience and it's a welcome return to the Brudenell since their previous 2021 sold-out Jazzland Sessions show last June.
Described as thoughtful, energetic, serpentine, embryonic, boisterous, episodic and nuanced, Wandering Monster reaches beyond what may be expected from the tried and tested line-up of the tenor saxophone/guitar quintet. The group showcase their love for world music, rock and metal whilst continuously trying to learn from the trailblazers of Black American music and improvised music. These influences result in a sound that is intense and raucous, yet dynamic, sensitive, spontaneous and intellectual. The band's eponymous debut album was released in 2019 on Ubuntu Music to much critical acclaim. In 2020 they released two singles in which the outfit continued to blend the performance of involved written material with exciting collective improvisation. More singles were released in 2021 which will be leading up to the second album release in 2022. Wandering Monster are Sam Quintana (double bass/compositions), Ben Powling (tenor saxophone), Calvin Travers (guitar), Richard Harrold (piano/keys) and Tom Higham (drums).