King Kurt, Polecats, Crawlin Kingsnakes & Rock Ape
Fiddlers, Bristol.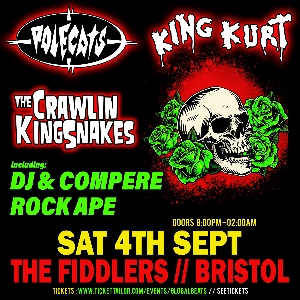 This event is for 18 and over - No refunds will be issued for under 18s.
More information about King Kurt, Polecats, Crawlin Kingsnakes & Rock Ape tickets
Bank Holiday Rockabilly // Psychobilly Shenanigans in Bristol
Bank Holiday Saturday 3rd April
Fiddlers // Bristol
Doors 8.00pm - 02.00am
DOUBLE HEADLINE SHOW
THE POLECATS // KING KURT
THE CRAWLIN KINGSNAKES
DJ & COMPARE - ROCK APE
THE POLECATS formed in 1977. The original line-up was Tim Worman (a.k.a Tim Polecat, vocalist), Martin "Boz" Boorer, (guitarist and vocalist), Phil
Bloomberg (bassist), and Chris Hawkes (drummer), who originally played under the name "Cult Heroes." Finding difficulty persuading promoters to book them on the rockabilly circuit with a name sounding "too punk", they adopted Hawkes' suggested band name The Polecats. Hawkes was later replaced by Neil Rooney.
The band were first signed by the fledgling British rockabilly record label Nervous Records, and recorded their first single "Rockabilly Guy" at
Guitarist Alan Warner's "Lane Studios" in 1979. Formerley with the hugely successful "Foundations" band Warner toured and recorded with the Polecats for about a year.
In 1980 the band signed to Mercury Records, and released their most successful LP, Polecats Are Go! They had UK chart success with a David Bowie cover "John, I'm Only Dancing", a reworking of "Rockabilly Guy", and another cover version of the T-Rex (Marc Bolan) song "Jeepster". In 1983, they

hit the charts in the United States with their song "Make a Circuit With Me."
KING KURT are heading to Bristol with their special kind of madness. Forming in 1981 as Rockin' Kurt and his Sauer Krauts the band changed name a year later with the arrival of new vocalist Gary ?The Smeg? Clayton to the now infamous King Kurt.
Signing with Stiff in 1983 it wasn't long before the band found themselves on Top of the Pops and with a hit single on their hands.
The band originally split in 1988 but audience demand has had them coming back for more to deliver more of their madness since 2012. A band if you've seen before you'll want to see again an if you haven't well now's your chance.


THE CRAWLIN KINGSNAKES: Rockabilly, Rock n Roll, Motorbikes, Gretch Guitars, Double Bass, Hot Rods, Rat Rods, Pin Ups, Trucks, Reverb, Pomade, Tremelos!! Forged from the
remnants of vintage racing motorbikes, greased with the good stuff and kick-started to life, The Crawlin Kingsnakes play all the best Hot Rockin'
Foot Stompin' Ass Kickin' Rockabilly and Rock n Roll from the '50s and beyond!