King of the Slums
Wee Red Bar, Edinburgh.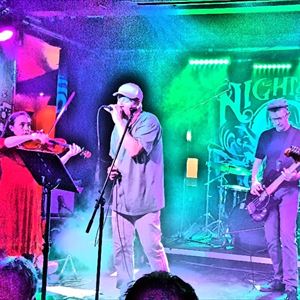 + SPIRIT:level (dub sex / ceramic hobs)
This event is for over 18s only - No refunds will be issued for under 18s.
More information about King of the Slums tickets
King of the Slums are probably the most 'under the radar' and important band to come from Manchester. They started up around 1985 in the Hulme, area of Manchester but never considered themselves a 'Manchester' band - just a band with an arty background, a little self-indulgent and gritty, story-type songs. A distorted electric violin was used throughout early recordings, along with guitar, bass and drums and they continued developing this sound throughout their initial singles and classic first album Barbarous English Fayre which received widespread acclaim. Following a switch to Midnight Music their second album 'Dandelions' also received favourable reviews in the music press. In 1991, following their 3rd studio album' Blowzy Weirdos', they fell out with record companies, management and each other and disbanded – despite being considered as a vital live act and on the brink of a US tour.

Following a lengthy hiatus in 2009 the band embarked on a new album, but again due to personal differences everyone fell out again and only a handful of new songs developed. The resulting album, "The Orphaned Files" combined these with a mixture of rarities and live tracks and was sold out many times. The band however did not pursue things further.

Enduring adoration from critics and fans worldwide combined with a number of enquiries culminated in the band getting back together once more in 2016. A full brand new album 'Manco Diablo' was released on June 8th 2017. The date occurred on the same day as a UK general election with the band stating that they wished to 'bury bad politics'. The new offering was lauded by critics and received widespread airplay. The clamour to hear more and see the band perform live again increased.

One year to the day the follow up album 'Artgod Dogs' was released. A stunning collection of tracks featuring the familiar ferocious violin sound combined with observational kitchen-sink narrative vignettes which has led many to proclaim it as one of their finest works to date. Standout tracks include 'Goya, Pinter, Honey, Bed', 'Cut-Throat Living' and 'The Broken English' a biting social indictment of the authorities reaction following the Grenfell Tower fire disaster

The album was accompanied by their first live performance since 1991. A low-key event aimed as a thank you to longstanding fans of the band

King of the Slums are elusive and kind of like it that way. Interviews are rarely given with public performances even rarer. Songwriter and singer Charlie Keigher states "I have always found talking about the music, an irrelevant after event, which has nothing to do with the music. Everyone in the band does it for the music. The music is too important to us to undermine it with post rationalism. It is our art. We cannot change that art with more words. We paint our musical pictures, anything else after that is not really a relevant issue. We are all too busy to indulge in after the event conversations."

This scheduled performance will encompass tracks covering all of their wide back catalogue. Grab it with both hands – it's a rare chance to see them before they flee back into the Mancunian shadows once more.
SPIRIT:level (Edinburgh date) - SPIRIT:level perform live vocals and sonic experimentation to a sound and film narrative. Journeying backwards and forwards in time, searching for hope in the grime of Victorian Manchester, 'The Little Irish (of Little Ireland)' and 'Angel Meadow Story' invoke the ghostly voices of the past. Moving through the present day to a plate-glass gleaming future, exploring the emotional turmoil of our ever-changing cityscape, SPIRIT:level culminates in a strangely haunting duet between Mark Hoyle (Dub Sex) and the Beetham Tower, the likes of which has never been heard before.