Kino London's Open-Mic Film Night! 98th Edition
Candid Arts, London.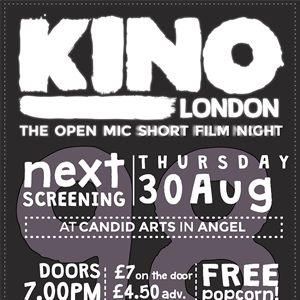 After you buy, click Split It With PayPal

to easily split ticket money with friends.
More information about Kino London's Open-Mic Film Night! 98th Edition tickets
Kino London returns with the 98th edition of the famous open-mic film night, another evening full of short films introduced by their makers, tons of laughs and free popcorn.
Filmmakers register in advance to screen their short. There are no themes and no restrictions, other than that films be under 10 minutes long, and that the filmmaker introduce their film on the night.
IF YOU WANT TO SCREEN AT KINO, SEND AN EMAIL IN THE FIRST INSTANCE TO: ENQUIRIES@KINOLONDON.COM
THE FOLLOWING INFORMATION IS REQUIRED IN YOUR EMAIL:
Confirmation you can attend to introduce your film.
Filmmakers present their work on the night, and have the opportunity to discuss their creations with audience and filmmakers alike. Despite what may seem like a daunting experience, Kino is refreshingly non-competitive. We are a truly open platform for both experienced filmmakers and those finding their feet as storytellers and producers. Both industry professionals and first-timers bring their shorts to Kino, and the quality of cinema at each event is both diverse and entertaining. And with such a broad spectrum of new work being screened, each event is a genuine reflection of the current output of filmmakers around the world.
Films are accepted on a first-come, first-served basis, and your place at the screening event is not guaranteed until you have sent us a copy of the film, and we have acknowledged receipt of it.
Our preference is for films of 6 minutes and under, and our plan is to show only one or two films per screening that are 6-10 minutes long.
It may be that we like your film, but cannot fit it into the schedule. If this is the case, we may offer to screen your film at the next screening.
We may reject your film if it is not in a recognisable file format. To help us with downloading a copy of your film, please optimise it through Handbrake first. Ideally, we would like an MP4.
How to use Handbrake to convert any video file to any format.
https://www.howtogeek.com/199618/how-to-use-handbrake-to-convert-any-video-file-to-any-format/
Handbrake makes sure the file will be easy for us to play on almost any laptop, and compresses it as much as possible. Just use the default settings on Handbrake and it should give us the most optimised file.
Kino Short Film reserves the right to make the final decision on whether or not to screen any particular film.
QUESTIONS OR COMMENTS? EMAIL US AT ENQUIRIES@KINOLONDON.COM