Kraftwerk
Hipódromo Manuel Possolo, Cascais.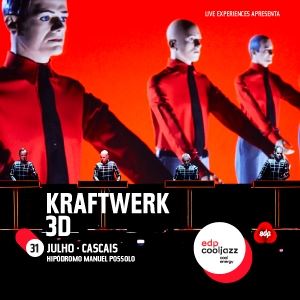 This event is for over 6s only - No refunds will be issued for under 6s.
More information about Kraftwerk tickets
São seguramente dos nomes mais marcantes de sempre na história da música universal. Referências absolutas de artistas de áreas tão dispares como o funk, eletrónica ou pop, tendo a própria banda se auto-intitulado como "robot pop", os Kraftwerk atuam a 31 de Julho no festival mais cool do verão. Kraftwerk sobem ao palco do Hipódromo Manuel Possolo, com um formato de espetáculo eletrónico 3D, compondo uma experiência musical e visual única.
Em 2003 recuperam o clássico "Tour de France", que precedeu o álbum "Tour de France Soundtracks". O crescente interesse de um novo público juntamente com o vigor intemporal da marca Kraftwerk configuraram um revigorante reconhecimento internacional que os levaria até ações como tocar discos clássicos como "Autobahn" e "Tour de Force" em locais como New York Museum Modern Art e Tate Modern (Londres). A marca distinta da sua arte leva o grupo a editar em 3D as atuações ao vivo entre 2012 e 2016 num registo intitulado "3-D The Catalogue".
Informações Kraftwerk – Facebook / Instagram/ Site / Spotify / Twitter / Youtube
Vídeo – https://www.youtube.com/watch?v=D_8Pma1vHmw
KRAFTWERK
31 de julho, Hipódromo Manuel Possolo, Cascais
Abertura de portas - 19h00 | Início concertos (Cascais Jazz Sessions) – 20h30
VIP GOLD – 55€
VIP – 45€
PLATEIA A – 40€
PLATEIA B – 35€
Bancada Coberta | Bancada | Pé – 25€
MOBILIDADE CONDICIONADA – PLATEIA A 40€
Mais informações e galeria em www.edpcooljazz.com