KT Tunstall
Boisdale Of Canary Wharf, London.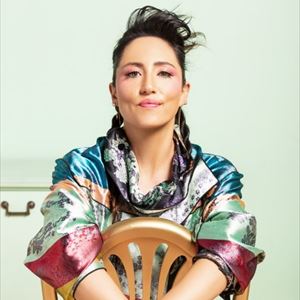 More information about KT Tunstall tickets


LEGENDARY SINGER, SONGWRITER KT TUNSTALL MAKES HER DEBUT AT THE BOISDALE STAGE FOR AN INTIMATE PERFORMANCE!
KT rose to fame with debut album Eye to the Telescope, an album which spawned a host of classic tracks including Suddenly I See and Other Side of the World and was nominated for the 2005 Mercury Prize.

Since scoring a worldwide smash with her debut album 'Eye To The Telescope' in 2004, which went on to sell over 5 million copies, KT Tunstall has remained at the forefront of UK singer-songwriter talent. Over the next decade, three further critically acclaimed albums followed; 'Drastic Fantastic', 'Tiger Suit' and 'Invisible Empire//Crescent Moon' in 2007, 2010 and 2013 respectively, keeping the platinum sales rolling and cementing the Scottish singer-songwriter's reputation as a major recording talent, as well as a mesmerising live artist.
Tunstall has toured the world many times over. She has become a festival favourite, from Glastonbury to Belladrum (and back again). She outsold every other female artist in the UK in 2005, won the 2006 Brit Award for Best British Female Solo Artist, won the Ivor Novello Best Song award for her huge, self-penned hit 'Suddenly I See', and a Q award for Track of the Year. She also landed a Grammy nomination for Best Female Pop Vocal Performance and lent her tunes to a host of movies and TV shows ('Suddenly I See', used in the iconic opening scene of Meryl Streep flick 'The Devil Wears Prada').
Her most recent album, 2018's Wax, was the second in a trilogy of LPs centred on the themes of soul, body, and mind.
*Please note your dining time is 7.00pm (Excluding lounge tickets) - if you wish to change this to an earlier or later dining time please contact our reception team after you have purchased your tickets on 0207 715 5818 or email reception@boisdale-cw.co.uk attaching your ticket.
ABOUT THE VENUE:
ABOUT THE VENUE:

Jools Holland, Boisdale's Patron of Music presents the best in jazz, blues and soul.
About the venue: https://youtu.be/SJhROJnoJLQ

Boisdale of Canary Wharf is a two-floor venue overlooking Cabot Square which comprises a restaurant, four private dining rooms, Oyster Bar & Grill and Cigar Terrace, the world's greatest Whisky Bar, and the best live music in the capital.

"London's number one jazz venue" Tatler
"Best Whisky Bar in the World" Whisky Magazine
"A carnivore's dream" Evening Standard
"Aged steaks are deemed incredible" Square Meal
"The world's most individualistic style bar & restaurant" Hot Tickets

FOLLOW US:

Facebook: https://www.facebook.com/BoisdaleRestaurants
Twitter: https://twitter.com/boisdaleCW
Instagram: https://www.instagram.com/boisdale_uk/