LA POLLA RECORDS
Hipódromo de Donostia, Donostia.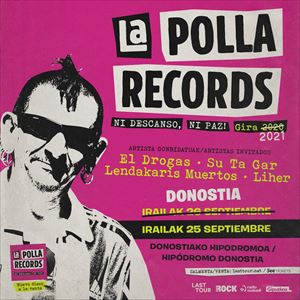 16+ only. 1s to 16s must be accompanied by an adult. No refunds will be given for incorrectly booked tickets.
More information about LA POLLA RECORDS tickets
La banda más carismática del punk en castellano, La Polla Records, ha firmado discos emblemáticos como 'Salve' (1984) o 'Revolución' (1985), ha sido parte fundamental de la escena punk estatal de los 80 y 90, y su mensaje, que critica sin concesiones a la democracia, la policía, la religión, la desigualdad o el capitalismo, ha influido a generaciones posteriores de músicos. Surgidos hace cuarenta años en Agurain (Álava), en 2019 regresaron tras 16 años inactivos con la formación con laque en 2003 ofrecieron los últimos conciertos del grupo: Evaristo, Sumé, Abel, Txiki y Tripi. Su regreso llegó con disco debajo del brazo, que incluye nuevas ediciones de sus grandes éxitos y suma un tema nuevo con el que dan título al álbum, 'Ni descanso, ni paz'.

Tras concluir el pasado fin de semana su gira por Latinoamérica, La Polla Records se prepara para su gira de despedida en el Estado, que cuenta con dos fechas en Euskadi: el 13 de junio en Vitoria-Gasteiz y el 26 de septiembre en Donostia. En ambas ocasiones se rodearán de invitados de lujo como El Drogas, un músico indispensable en la historia del rock de este país, y Lendakaris Muertos, de regreso a los escenarios tras un parón, ambos estarán presentes tanto en Vitoria-Gasteiz como en Donostia. Además, al concierto de Donostia se suman dos formaciones guipuzcoanas: Su ta Gar, sin duda una de las bandas más míticas del rock en Euskadi, incombustibles desde 1987; y Liher, que, con la poderosa Lide Hernando como frontwoman, es una de las formaciones que con más fuerza están emergiendo en la escena euskaldun. La Polla Records se despedirá de Donostia con un concierto especial con artistas invitados para una gran fiesta en la que se podrá disfrutar no solo de una de las últimas ocasiones de ver en directo a los de Agurain sino de más de 6 horas de rock y punk.
¡Entradas ya a la venta!