LA POLLA RECORDS
Mendizabala, Vitoria-Gasteiz.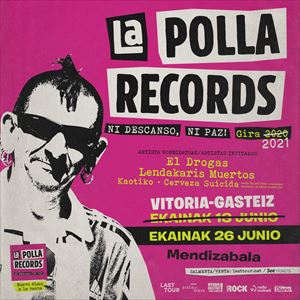 16+ only. 1s to 16s must be accompanied by an adult. No refunds will be given for incorrectly booked tickets.
More information about LA POLLA RECORDS tickets
EL CONCIERTO DE LA POLLA RECORDS EN VITORIA-GASTEIZ SE POSPONE AL 26 DE JUNIO DE 2021

Las medidas de prevención ante la pandemia de Covid-19 se prolongan y es por ello que La Polla Records y Last Tour han decidido posponer su concierto de Vitoria-Gasteiz dentro de la Gira de su 40 Aniversario que estaba programado para el 13 de junio en Mendizabala, Vitoria-Gasteiz. La nueva fecha será el 26 de junio 2021 en el mismo recinto y con el mismo cartel.

La prioridad máxima de Last Tour, La Polla Records y su equipo, es preservar la salud de los asistentes al concierto y de las personas que participan en el desarrollo del mismo, así como velar por el bienestar general, respetando las medidas adoptadas por e Ministerio de Sanidad.

Las entradas adquiridas a través de See Tickets serán válidas para la nueva fecha, sin necesidad de realizar ningún trámite adicional. En el caso de que no puedas acudir a la nueva fecha,os informaremos con un correo eléctronico de cómo proceder.

La venta de entradas se mantiene con normalidad.

Lamentamos la situación y esperamos verte el próximo 26 de junio de 2021
¡LA POLLA RECORDS EN CONCIERTO EN VITORIA - GASTEIZ EL PRÓXIMO 26 de junio de 2021!
Banda icono absoluto para varias generaciones y una de las formaciones más influyentes de la historia musical de nuestro país y también de Latinoamérica, La Polla Records volvieron a la carretera este año y lo han hecho con un disco, 'Ni descanso, ni paz' y una gira especial aniversario que ha efectuado cuatro paradas en el Estado (Valencia, Madrid, Bilbao y Barcelona) congregando en total a más de 100.000 personas y haciendo sold out en todas las fechas.
A esta histórica jornada se sumarán otras bandas que contribuirán a una despedida aún más memorable si cabe: El Drogas, uno de los artistas más comprometidos del panorama musical y venerado icono del rock estatal tanto por su carrera en solitario como en su anterior etapa al frente de Barricada; Lendakaris Muertos, que supieron resucitar la escena punk en pleno siglo XXI y retomar el legado de bandas históricas como La Polla, vuelven a los escenarios tras el parón indefinido que anunciaron a principios de 2018; Kaotiko, banda de rock tan de Agurain como Evaristo, que ha colaborado con ellos en alguna ocasión al igual que El Drogas; todo queda entre amigos en esta cita de punk, rock, y frases que se clavan como puñales en la conciencia colectiva. Además, se suman Cerveza Suicida, ganadores del certamen gasteiztarra Gazte Talent 2019.
¡ENTRADAS YA A LA VENTA!


Descarga la autorización de menores pinchando en este enlace