Latitude Festival
Henham Park, Beccles, Suffolk.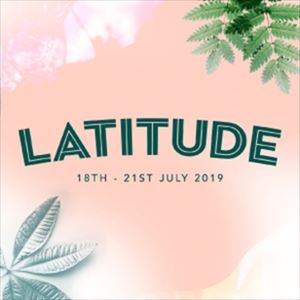 Under 16s must be accompanied by an adult. We cannot issue refunds to under 16s who are not accompanied by an adult.
More information about Latitude Festival tickets
The event gates open for camping from 2pm Thursday 18th July and close 5pm Monday 22nd July.
Tickets are exchanged for wristbands on first time entry. Weekend wristbands allow unlimited access to and from the event. There is no re-entry on ticket alone. Day wristbands allow access through the day entrance only.

The arena opens:
Thursday - approx 5pm
Friday - approx 10am
Saturday - approx 10am
Sunday - approx 10am
Please note these times are approximate and subject to Health & Safety checks prior to each opening.

Car Parking - Free to ticketholders

Age Restrictions
0-4 years are Free. No ticket is required.
5-12 years olds must be accompanied by a ticket holding adult and each child will require a Child Ticket.
13-15 Must have a Teen ticket and may move around the event unaccompanied but are not permitted to arrive or leave through the perimeter gates without an adult over 18.
Children under 16 years old must be accompanied by a parent or guardian who is over 18 years old. Don't take any chances - bring proof of age.

Note: Latitude Festival will contain acts unsuitable for children. Where it is possible to classify a scripted performance or film by age, this will be noted on signage outside the tent. The Cabaret Arena will contain nudity. The Comedy Arena will contain swearing. Other stages may feature material not suitable for children that we are unable to predict and classify due to the nature of live performance.

Day Ticket Entry - There is a separate entrance for day ticket holders. The day entrance and car park can be located from the site maps at www.latitudefestival.co.uk . Day ticket holders should be aware that some of the main arenas are tented and have limited capacities. Ticket holders should allow ample time to enter and find the arena where their favourite acts are playing to arrive early enough to ensure the tents are not already full.

Disabled Access Tickets
Please see information on Disabled Access here.
Disabled customers will be provided with one free ticket for their helper, where required. Should additional helper tickets be required, please email info@festivalrepublic.co.uk

Onsite Facilities
Bars, Cash Points, First Aid and Paramedics, Food and Non Food stalls, Information Tent, Property Storage, Lockers including phone recharging facilities, Merchandise, Showers, Welfare Tent, Firewood stall, Wheelbarrows for hire.

Water
There are free drinking water points throughout the campsites and arena in most cases, next to the toilet blocks. They are all signed as suitable for drinking and the supply is tested daily. Any broken taps or flooding should be reported to the nearest steward.

Toilets & Showers
There are toilet blocks throughout the campsites and arena. At most toilet blocks, there will be a toilet service attendant based there permanently. If you notice any toilets that need servicing, please tell the attendant or the nearest CAT (Campsite Assistant Team) or HAT (Helpful Arena Team). All toilet paper supplied is made from recycled toilet paper. Any additives used in the toilets are biological and are not harmful to the environment.

Disabled toilets are available throughout the site at key locations.

The shower tent is situated in the Village and will be open from 6am to 1pm and from 7pm to 12.30am each day.

Seating
Latitude is an open air non-seated event - some seating is available in the Obelisk Arena and there are picnic benches in the arena and deckchairs by the lake.

Wristbands
The wristbanding tents are located just inside each campsite gate so you need to swap your ticket for a wristband before you enter the campsite and pitch your tent. Please note that some queuing at these wristband exchanges at peak times is inevitable. We will be doing our best to wristband everyone as quickly as we can and will have more staff on duty at peak times than in previous years.
Family Camping is accessible via Green Gate on the A145 then Memorial Gate.

The wristband exchange for day ticket holders is situated by the day ticket entrance.

Re-admittance to the site is only possible once you have been wristbanded. Entrance to the arena is only possible with a valid wristband.

Wristbands removed from the wrist or tampered with will be rendered invalid and will not be replaced.

We advise all day ticket purchasers to arrive early to avoid missing any of their chosen acts and to leave ample time to get from the entrances to the stages.

Running Order Changes
Any changes to the running order are passed on to the Information Tent and should also be posted on the large information boards situated throughout the site. HATs (Helpful Arena Team) will also be able to update you.

Weather Policy
There is no refund or exchange available. The event will go ahead regardless of rain etc. Please dress for the prevailing weather conditions. Bring sunscreen.

Information Line
You can call the Information Line on 020 7009 3001

WEEKEND TICKETS
Please note that the Family Camping area requires one ticket per adult
(I.E. it's not a group ticket) and that only those with children are
permitted in to this area. No single or groups of adults are allowed in
to the Family Camping area.

Please appreciate that this is for the comfort and safety of all festival goer
and that exceptions cannot be made.


ALL TICKETS
Children 4 years and under are free and do not require a ticket.
Children 5-12 years require a Child Ticket
Teenagers 13-15 years require an Accompanied Teen ticket. There is a limit of two Teens per booking.
16 years + require a full price (adult ) ticket.