Laurence Clark
Chorley Little Theatre, Chorley.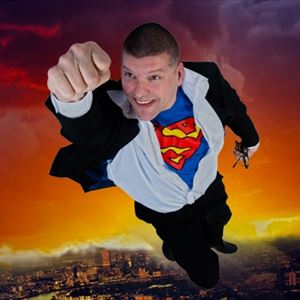 More information about Laurence Clark tickets
'An Irresponsible Father's Guide to Parenting' by Laurence Clark
Comedian Laurence Clark starred in BBC1's documentary 'We Won't Drop the Baby', following his family's journey as they welcomed their second child. The response it received worldwide was at times inspirational and uplifting – at others, derogatory and incredibly personal. Laurence's show explores these reactions, and questions his role as a father with cerebral palsy - with the help of his two young sons, who undoubtedly steal the limelight with their charming and innocent view of their parents. Putting the audience in the driver seat, An Irresponsible Father's Guide to Parenting gives a comic, brutally honest and charming account of what it's really like to be a disabled parent.
"Wickedly funny" – ????? Herald
"Intelligent and incredibly mischievous" – ???? Metro
"Close to the bone and very funny" – ???? Scotsman
"an excellent show, jam-packed with laughs and a delight to watch" ????? One 4 Review