Lercio Live Show - London
The Prince Of Wales, London.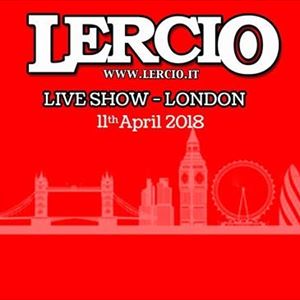 More information about Lercio Live Show - London tickets
Lo Show del giornale satirico più famoso del web arriva a Londra!
- Macchinista fa arrivare il treno in orario: denunciato per apologia del fascismo
- Giornalista di Studio Aperto non sa di essere in onda e dà una notizia di economia
- Salvini si sveglia in un mondo migliore e scopre di non esistere
Ne volete ancora? Allora non potete assolutamente perdervi il Lercio live, il primo spettacolo ideato e scritto dalla redazione del sito satirico più amato d'Italia. Battute fulminanti, telegiornali improbabili e scoregge vaginali vi terranno compagnia per un'intera serata, al termine della quale verrà sorteggiato il vincitore di una batteria di pentole in acciaio inox 18/10.
Nessuna selezione all'entrata, a meno che non siate Checco dei Modà.
Inizio Spettacolo ore 19.30.
Prima e dopo dj set con Dj Bozzy!
_ _ _ _ _ _ _ _ _ _ _ _ _ _ _ _ _ _ _ _ _ _ _ _ _ _ _ _ _ _ _ _ _ _
TICKETS: http://www.seetickets.com/tour/lercio-live-show-london
_ _ _ _ _ _ _ _ _ _ _ _ _ _ _ _ _ _ _ _ _ _ _ _ _ _ _ _ _ _ _ _ _ _
the POW - The Prince of Wales, 467-469 Brixton Road,