LES BODS Plus support Little Triggers Tickets
The Green Door Store, Brighton.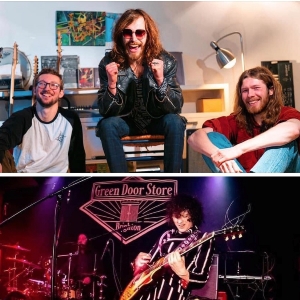 Please bring proof of purchase /ticket along to the show
This event is for 18 and over - No refunds will be issued for under 18s.
More information about LES BODS Plus support Little Triggers tickets
LES BODS
Brighton's Garage Rockers LES BODS are back! With the release of their debut single 'People', gaining support from over 70 countries in their first year as a band! Their psychedelic presence and mind melting riffs are back, with another single; 'Free Your Mind'
For fans of: L.A WITCH, Ty Segall, The Howlers, The Black Keys, The Oh See's and King Gizzard and The Lizard Wizzard.


https://www.youtube.com/channel/UCAFRw0JJ47t2o684oN7qN5A

LITTLE TRIGGERS

With the Little Triggers line-up finalised in late 2017, the band rehearsed manically through early
2018 before embarking on a Spring tour. This culminated in a magical night at a festival in France
with 3,000 fans going berserk, mass stage invasions and young girls and guys becoming impromptu
backing dancers. The band were invited back to France for four gigs in August that year, returning to
enter the recording studio to lay down their debut album. An end of year highlight was stealing the
show from a Doors tribute band at a sold out Academy gig in Liverpool.
2019 saw another 8 gig French tour, including playing to a 4,000 crowd at Le Voix du Rock festival
near Poitiers and storming a festival in Suffolk, who's organisers labelled Little Triggers "band of the
weekend." The debut album "Loaded Gun" was released in May 2019, with the first single, So Fine,
played five weeks in a row on Planet Rock Radio. The band were given a rave review in a Classic Rock
magazine 'High Hopes' feature and the end of the year saw So Fine featured as one of Classic Rock's
'Tracks of 2019'.
Little Triggers are a formidable live force and the line-up now features Tom Hamilton on guitar and
lead vocals with Jay Radcliffe on drums and backing vocals. The single BANG was released in
February 2020 to great reviews and the band managed to squeeze in an 11 date UK tour just before
lockdown. Two further singles were released in 2020 to excellent reviews and decent Spotify
streams. These were BURN and FEED ME. Two new tracks were recorded in January 2021, one of
which will be the next single. One of their tracks, I'm Alright, was played in an episode of the US
version of Shameless just before Christmas which was a first for the band.
The band then won through to the televised finals of an international competition for original music
called the No Cover show, filmed in the legendary Troubadour Club in West Hollywood in March,
with Alice Cooper as lead judge. It was a huge disappointment that, due to Covid restrictions, the
band weren't able to travel to the US to take part. They have filmed a live version of BURN that will
be screened on one of the shows, hitting TV screens later this year, and have been invited to take
part in the finals of next year's competition.
Coming out of lockdown sees the band in popular demand with shows in Leicester, Liverpool,
Brighton and Bristol already lined up for the Summer and others being arranged. A co-publishing
deal is in the offing and there is real interest from the US so this should be an interesting year forLittle Triggers.

https://www.youtube.com/channel/UCvkklUXhPasw15cGTOhmIUw