Like The Beatles - fabulous Beatles tribute
The Northcourt, Abingdon.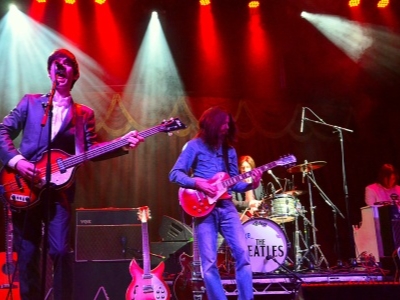 Under 18s must be accompanied by an adult. We cannot issue refunds to under 18s who are not accompanied by an adult.
More information about Like The Beatles - fabulous Beatles tribute tickets
This band's attention to detail not only goes to the precise musical recreation of the songs and trademark Beatles Harmonies oh no, much more than that. They have acquired exactly the same vintage instruments and have recreated all the suits and costumes to the last button or stitch.

They're show encompasses from the first explosive hits as four lads out of Liverpool announced themselves to the World & were transformed into the Fab Four including Help, I wanna Be Your Man, Yesterday, Can't Buy Me Love into the experimental & Sgt Pepper periods with songs like Lucy In The Sky With Diamonds, Strawberry Fields Forever, Penny Lane right through the White Album to Abbey Rd & Let It Be and the great material they signed out with like Come Together, The Ballad of John & Yoko, Back in The USSR, Helter Skelter, Hey Jude and far too many more to even try to name.