Lil Jimmy Reed
Worthing Piers Southern Pavilion, Worthing.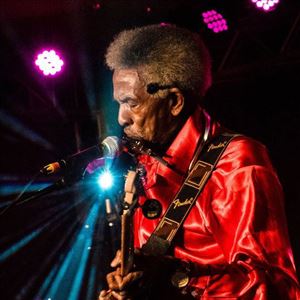 This event is for over 18s only - No refunds will be issued for under 18s.
More information about Lil Jimmy Reed tickets
Sadly most of the great musicians who created this vibrant, influential blues music have passed on, leaving only their recordings to testify to their genius. However, one man, whose career stretches back to the time when rhythm 'n' blues was just bursting onto the popular music scene, is still with us and playing better than ever.
At 77, Leon Atkins, better known as Lil' Jimmy Reed, is the real deal, as will be attested to by anyone who has been privileged to hear his stinging guitar work, gritty vocals and haunting harmonica.
A tall charismatic figure, Lil' Jimmy epitomises the classic Louisiana down-home blues tradition. Born in the late nineteen-thirties in a shot-gun shack in Hardwood, LA, a small cotton and sawmill town on the Mississippi River.At six he had his own guitar, made from a cigar box, and by the time he was a teenager he was proficient on both guitar and harmonica, playing local clubs around Baton Rouge. Filling-in one night for blues star Jimmy Reed earned him the sobriquet Lil' Jimmy Reed and started him on the long path to success.
He has shared the stage with B. B. King and Bobby " Blue" Bland and head-lined festivals in Europe and the UK. His many fans recognise that Lil' Jimmy's performances are almost the last chance to hear the raw, unadulterated sound of authentic Louisiana blues.
Don't miss this chance to experience the original blues at Worthing Pier
Tickets available from www.worthingpier.co.uk or the Southern Pavilion Cafe in person
Unreserved seating and standing.
There are pillars that may restrict viewing
Follow us on twitter WorthingPierSouthPav (@WorthingPierPav)
www.worthingpier.co.uk
The building at the sea end of the pier