LISB-ON 2023 Tickets
Alameda Keil do Amaral, Lisboa.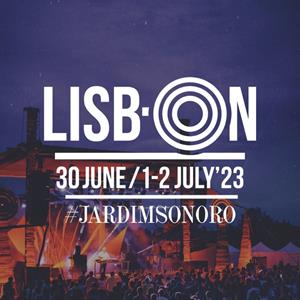 This event is for 3 and over - No refunds will be issued for under 3s.
Pay off your deposit/balance
Already purchased a deposit? Pay off your balance here:
Please enter the reference number and email address for the order you placed for the deposit ticket.
Can't find your reference number? Log into our customer service area to see your recent orders.
---
More information about LISB-ON 2023 tickets
The urban experience of the festival is based on a concept that aims to bring the party into the light of day and from this the LISB-ON #JardimSonoro has been developing its own personality in which diversity and quality of the musical programme are watchwords. Between chill out and techno, always paying attention to disco, house, jazz, soul, funk or electronic pop, with DJs and concerts, the festival has followed the national and international production, revealing promises and promoting the reunion with known heroes.


LINE UP
FRIDAY 30TH JUNE
PURPLE DISCO MACHINE
JUNGLE dj set
POOLSIDE
QUANTIC Dj set
DVS1
DJ NOBU
CLAUDIO PRC
THIAGO GUISELINI
MDUSA
ZE SALVADOR
AMULADOR & ANDRE CASCAIS
POLYGONIA
GWENAN
KAESAR & ZOY
VERA
PANDILLA LTD
ELLESS & BENN
LUISA & MANUEL COTTA
LIFESTYLING SHOWCASE
(LAAD
& STRAKA

SATURDAY 1ST JULY
FREDDIE GIBBS
SISTER SLEDGE concert
GUI BORATTO
HVOB Live
COOKIN
SOUL
HELENA GUEDES
TEMUDO
Live
CRAVO & FRESKO
SALBANY & ACID CELL
BRUSCA
LAURA
tINI
& SOLID FUNK
DYED SOUNDOROM
MIGUEL NETO
DETROIT IN EFFECT
CRUZ
TELMA & WORM CLASS
PEDRO TENREIRO
JOAO TENREIRO

SUNDAY 2ND OF JULY
BEN BOHMER Live
DONATO DOZZY
SAINTE VIE
ZIP
MOULLINEX ? GPU PANIC
KOKESHI
BERBERAN
ERIC CLOUTIER
VALENTINO MORA
MARIA CALLAPEZ & FRANCISCA URBANO
BARBARA PREISINGER & ELI VERVEINE
BALI
LA GUGGA
PENELOPE & TIAGO MARQUES
MARY B

PROMOTER: JARDIM SONORO