London Dungeon LATES
London Dungeon, London.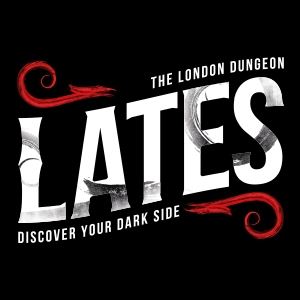 Before descending into the bowels of the Dungeon, steel your nerves with a tot of gin or an authentic Victorian cocktail served by a darkly mischievous barmaid in the Gin Bar. After delving into the dressing-up box, it's time to leave the modern, working world behind and embark on a thrill-filled journey through 1000 years of London's murky past - guided by a cast of London's most infamous rogues and villains.
Meet Sweeney Todd and his evil sidekick Mrs Lovett, escape the Plague ridden streets of 1665 and visit Jack the Ripper's favoured haunt, the Ten Bells pub in Whitechapel. Then all back to the Tavern for a traditional beverage and some good-old Victorian pub banter and entertainment
Adults only tour of The London Dungeon (approx 75 minutes)
Two alcoholic drinks
Access to the Dungeon Tavern, a Victorian Pub Experience.
You will need to select a time slot to enter the event however guests are welcome to stay in the attraction until the closing time of 10:45pm.
This event is for over 18s only. Merlin Events have a Challenge 25 policy, so please bring ID as you may be required to show upon entry.