London Model Engineering Exhibition- Meridienne Ex
Alexandra Palace, London.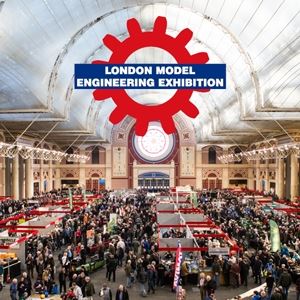 More information about London Model Engineering Exhibition- Meridienne Ex tickets
Please call SEE Tickets on 0115 896 0154 if you would like to book a ticket by phone or have any questions when booking your tickets.

NB: Postable tickets will be dispatched from 1 month prior to the opening show date.

The Venue

Great Hall, Alexandra Palace, Alexandra Palace Way, London, N22 7AY

Opening Times

Friday 10am - 5pm Last Entry 4pm
Saturday 10am - 5pm Last Entry 4pm
Sunday 10am - 4.30pm Last Entry 3.00pm
The Model Active Zone closes at 3.30pm on the Sunday.


Visitor Information

For all information please see our dedicated website www.londonmodelengineering.
co.uk

The London Model Engineering Exhibition returns to the iconic venue of Alexandra Palace for the 2019 event.

The exhibition is regarded as one of THE Largest Model Engineering and Modelling Exhibitions in the UK.
The 2019 event will be packed with hundreds of displays to keep the whole family entertained for hours, from traditional model engineering, steam locomotives and traction engines, collections of scale model ships, through to the more modern gadgets and boys toys including remote control trucks, boats, aeroplanes and helicopters. Visitors to the exhibition can travel between the shows different zones, trying out different activities and watching fascinating and technical demonstrations.

The London Model Exhibition will also host over 50 national and regional clubs and societies displaying their members work each competing to win the prestigious Society Shield. In total nearly 2,000 models will be on display.

Over 60 of the industry leading suppliers will be present showcasing new products and special promotions. It gives hobbyists an excellent opportunity to see and compare products under one roof as well as glean expert advice and useful tips from the professionals. You can purchase virtually anything you need for your next model or project or to get you started in a hobby.

If you are interested in modelling yourself or want to rekindle your childhood memories, you will find something amongst the many diverse types of modelling on display to admire. If you are not already a modeller hopefully the exhibition will fire your imagination to build something yourself and enjoy one of these satisfying hobbies.

With so much to see and do under one roof, The London Model Engineering Exhibition is a great day out for all the family whatever the weather!