Loretta Heywood & Five Shades | Socially Distanced
The Fiddler, London.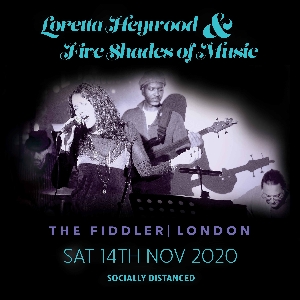 PLEASE NOTE - This is a socially-distanced show, tickets must be bought in household groups of no more than 6


The Fiddler
229 Kilburn High Rd.
London
NW6 7JG

Nearest Tube: Kilburn Station
Bus: 16, 32, 189, 316, 332, 632
info@thefiddlerlive.com
More information about Loretta Heywood & Five Shades | Socially Distanced tickets
The Fiddler is proud to present these series of very special, socially-distanced shows at the venue!
--------------------
"Loretta Heywood is a very special performer. Her ability to touch your heart with her interpretations of classic songs, makes you feel as if they are her own. This is what made people come back time after time to hear her and her very talented musicians." Vince Power, promoter
Loretta Heywood is a soulful songstress, best known for her ethereal vocals with 90's electronic band Bomb The Bass, with whom she wrote and recorded the top 5 hit Winter In July.
She has since worked on many underground dance projects, and has released 2 albums in her own name. She is currently back in the studio, writing and recording tracks for her new album, "A Trilogy of Love Songs."
"Fantastic stuff, the great voice of Loretta Heywood." – Robert Elms, BBC London
From 2014-2016, Loretta ran a highly successful live music night, working with promoter Vince Power @ the iconic music venue, the KPH in Notting Hill, with her band Five Shades, drawing crowds from across the capital.
--------------------
PLEASE NOTE: This is a socially-distanced show in line with the latest Government guidelines // Tickets should be bought in household groups only // All drinks will be served via table service // Curfew 10pm