LOS PACAMINOS LIVE @ The Screen Space
Hatfield House, Hertfordshire.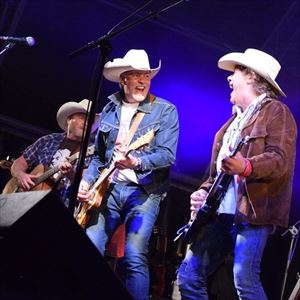 Dust off those cowboy boots and ride down to Hatfield House for some live TEX-MEX fun!
Los Pacaminos featuring Paul Young, live on stage at The Screen Space 2020 for one night only.
Set to be one of their biggest shows of the summer!!
* NOW INCLUDING... THE THREE AMIGOS FILM AFTER THE SHOW! *
LIMITED TICKETS AVAILABLE - GET YOURS TODAY...
This event is for 18 and over - No refunds will be issued for under 18s.
More information about LOS PACAMINOS LIVE @ The Screen Space tickets
Los Pacaminos formed in mid-1992, when the UK based pop star Paul Young found himself with some down-time and phoned a few musician friends with the intent of starting a Tex-Mex band.
Originally a six-piece, guitarist Jamie Moses, accordion/keyboard player Matt Irving, songwriter Drew Barfield, bassist Steve Greetham and drummer Mark Pinder began rehearsals in that summer, and in November played their first gig at the White Horse pub in Richmond, Matt's local watering-hole.
Fully expecting that the band would fall apart when something more important came along, instead the band played better and the friendship got tighter with each show.
The hats and the band name were there mainly to make it as clear as possible that it wasn't a Paul Young show: yet as they started writing their own songs it became more & more obvious that this wasn't going to be a short-term project.
In the year 1997 Jamie called Paul regarding a pedal steel player he'd worked with called Melvin Duffy, and suggested he play on a few songs at the next show. As Paul remembers, "as soon as he took the first solo, we all melted! He had to be in the band, the decision wasn't his to make".
Now a 7-piece, in 2002 the Pacs reacted to supporters of the band and recorded their first album. A collection of 12 original songs that ran through their influences of the Texas Tornados, Doug Sahm, Flaco Jimenez, Roy Orbison, The Band, Chuck Berry, Ry Cooder and Calexico, the album pulled in an impressive array of positive reviews.
In 2015, the band lost their dear friend and founder member Matt Irving after a long battle with cancer. In 2016, Steve "Woody" Oakman stepped in as the new accordionist.
Los Pacaminos are now past their 25th year and show no signs of stopping. With an unmatched live reputation, two acclaimed studio albums and two live albums under their belts they continue to explore the music of the Southwest.
A TEX MEX SCHEDULE OF FUN...
18:00 - DOORS OPEN - GET YOUR PRE-SHOW FOOD AND DRINKS!
18:30 - LOS PACAMINOS LIVE ON STAGE
20:30 - FILM: THREE AMIGOS! (INCLUDED IN THIS TICKET)
22:15 - SHOW DOWN
YEEEEE HAAAAA!!!!
About The Screen Space
This fantastic new covid safe outdoor venue has been a real hit so far this summer. With socially distancing circles for up to 6 people its easy to enjoy some great entertainment safely. We have been operating with full backing from the local authority since the 4th August, offering exercice classes, live entertainmant and movies. There are some great food/drink options available, including pizza, cockatils and other drinks from our big london bus bar!
Max 6 people per Social Circle (these will be marked out on the event space for social distancing)
NO ALCOHOL OR GLASS BOTTLES ALLOWED ON ENTRY - ALL ALCOHOL MUST BE PURCHESED AT OUR ONSITE BARS
Please note: All events are subject to ongoing license and government guidelines and approvals during these unprecedented times. As such, they are subject to change. In the event of cancellation due to Government regulations, we offer a 100% money back guarantee on tickets. Please note that we will not refund the booking fee, only the face value of tickets. Refunds will be received within 14 days of the event date. Customers accept the risk that weather they consider poor may present itself on the day of each event and that tickets will not be exchanged or refunded (minus booking fees) unless a wellbeing sessions or screenings is cancelled by The Screen Space. These will only be cancelled if the weather conditions become a danger.