LOUISEY RIDER CUP 2018 - ROLLER DERBY TOURNAMENT
Lee Westwood Sports Centre, Nottingham.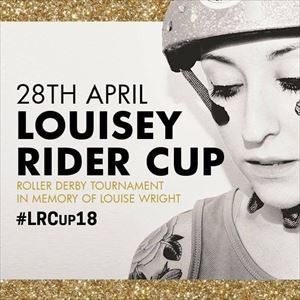 Tickets are available to all 18+ mins skills passed skaters. IMPORTANT: Please ensure you tick the box to allow the promoter to email you so we can send you a skater details form.
Tickets CANNOT be resold directly. If you cannot make it after purchasing a ticket, email lrcskaters@gmail.com and we will reallocate your ticket to someone on the reserve list. The new skater will pay you directly.
More information about LOUISEY RIDER CUP 2018 - ROLLER DERBY TOURNAMENT tickets
Format:
There will be 2 groups of 3 teams (6 teams total) with each team playing a round robin, and 3 placing fixtures consisting of fifth place play-off (3rd v 3rd), third place play-off (2nd v 2nd) and tournament final (1st v 1st).
Each team gets 90 minutes track time, with 14 skaters in each.
There is a maximum of 2 skater tickets that can be bought per person. You will receive a form via email after you have purchased, to fill in skater details for each ticket.