Love Supreme 2022 Billets
Glynde Place, Glynde.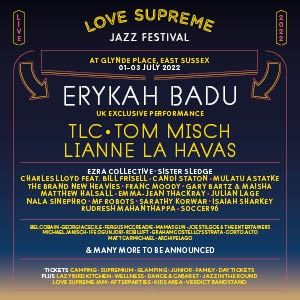 Love Supreme is a three-day greenfield jazz festival held in the stunning surroundings of Glynde Place in the iconic South Downs of East Sussex. Widely regarded as one of the top jazz festivals in Europe, its five stages host a diverse and premium bill that combines jazz greats, international legends, cutting edge artists and the finest DJs.
Les enfants de moins de 10 ans doivent être accompagnés d'un adulte. Nous ne pouvons pas rembourser les enfants de moins de 0 ans qui ne sont pas accompagnés d'un adulte.
Plus d'informations sur les billets Love Supreme 2022
With such a wealth of new and legendary talent across all stages, this year's festival will be three days of pure musical immersion. See your heroes, catch that artist you heard are the next big thing or just follow your ears and find something brand new.
Age Restrictions
Children under 16 (15 years and under) must be accompanied by an adult aged 18+. Maximum of one under 16 per adult aged 18-20 and four under 16s per adult aged 21+
Accessible Information
Please visit the Access Information page to find out how to apply for the accessible facilities and Free PA ticket: lovesupremefestival.com