LUNA ROSSA
Gresham Centre, London.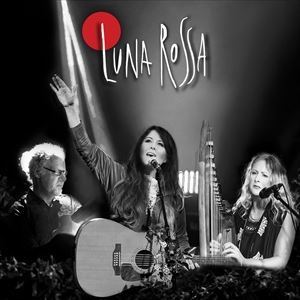 Doors open: 6.30pm / Show start: 7pm
(to finish by 9.30pm)
• DRINKS: Please bring your own drinks, as there is no licensed bar at the venue.
(more info below)
More information about LUNA ROSSA tickets
'Honest, beautiful and and bewitching... A triumph'
(Background Magazine)
LUNA ROSSA bring their shimmering, magical music to the Gresham Centre this Autumn as part of a major UK Tour.
The Award-Winning

group

- who create '21st Century Acoustica' - will be celebrating the release of their hotly anticipated 3rd album.
(Official Release: October 2018)
This exclusive show will feature the live performance of every song from this breathtaking new album, in its entirety;
plus a wonderful selection of
the most popular
music
from the group's first 2 critically acclaimed albums.
This will be the
only
Luna Rossa
show in
London
for 2018, so you can expect a truly unique and memorable evening.
Luna Rossa
are
Anne-Marie Helder
and
Jonathan Edwards
- an Award-Winning duo of highly
acclaimed songwriters / musicians,
who have collaborated on many successful projects over the past 15 years.
They are joined for this UK Tour by Sarah Dean, who will add an ethereal sparkle with her Celtic harp and harmony vocals.
In addition to to Luna Rossa, Helder & Edwards are also famed for their work with the British alt-rock band PANIC ROOM.
As a songwriting team, they have written and produced over 10 albums together, winning
multiple awards;
including 'Album of the Year, 'Song of the Year', and many plaudits for their instrumental talents.
Anne-Marie Helder is also a world-class vocalist, who has toured extensively both as a solo artist and at the fore of many groups.
A warm frontwoman with a spectacular vocal range and tone, she was voted 'Best Female Vocalist' for 2 years running in a national UK music magazine.
(Prog Magazine, Readers' Poll)
In 2013, Helder & Edwards released their debut album as LUNA ROSSA : Sleeping Pills & Lullabies'.
Drawing on their shared love of pure songwriting - of acoustic artists and timeless troubadours - this album was a cheeky side-step away from the successes they had been enjoying in the alt-rock scene.
With Luna Rossa, they hoped to
create a unique and intriguing new soundscape; an intimate world in which their more acoustic, stripped-back and honest ideas could live.
The result was an astounding debut album, which proved to be an immediate hit with both music fans and critics.
Their vibrant mix of classic instrumentation - piano, acoustic guitar, celtic harp and voice - plus the addition of 21st Century loops, rhythms and samples (such as hand-played wine glasses)
means that the music of Luna Rossa

is both fresh and instantly mesmerising.
The 2nd album - 'Secrets & Lies' -
was another collection of exceptional songs, brimming with "honesty, heart and aching beauty".
The critical success of both albums has seen Luna Rossa propelled to international heights, featuring in many Top 10 Acoustic / crossover charts.
From humble beginnings, Luna Rossa have exceeded all expectations by blossoming into one of the most popular, exciting and highly-respected groups on the international Acoustic scene today.
Their highly-anticipated 3rd album will be released in October 2018, and will be accompanied by a full UK Tour.
Album no.3 promises to be an even deeper journey into the heart of Luna Rossa, and a continuation into their wonderful musical world.
PRESS:
"An album that sparkles with moonlit tunes...
Emotional honesty and exquisite arrangements"
(DPRP - Netherlands music website)
"Not folk, not jazz, not rock... but inhabiting a hushed,
bruised & wonderful world somewhere in-between."
"A fantastic fusion of acoustic, folk and classical styles.
Anne-Marie Helder has a wonderfully expressive voice, and the multi-instrumental talents on display allow Luna Rossa to explore jazz, folk and neo-classical influences..."
(R2 - Rock'n'Reel Magazine)
"
LUNA ROSSA are beautifully poised between the explorations of Kate Bush
and the powerful singer-songwriter tradition that stretches back to Joni Mitchell
and the US West Coast of the early 70s"
"

Stunning... Spine-tingling...

Sublime.

"
THE VENUE:
Firefly Music Ltd are very proud to present this exclusive LUNA ROSSA concert at the Gresham Centre, London.
Located just 200m from St Paul's Cathedral, the Gresham Centre is housed within the Church of St Anne & St Agnes - a Wren church of incredible beauty.
The full history of the building spans back to at least 1137, when it was first mentioned in parish records, and over the centuries it has suffered a turbulent history.
Facing near-destruction many times over - including being hit by the Great Fire of London in 1666, and bombing in the 2nd World War - the church has somehow managed to survive it all, being cherished and rebuilt time and again.
Within the church, The Gresham Centre is now an international centre for vocal excellence and community outreach.
It is home to the VCM Foundation, one of the leading musical charities in the world, who work to help and inspire people through music.
The VCM also boasts 2 internationally acclaimed vocal ensembles: VOCES8, and Apollo5, whose albums and concerts are legendary.
VENUE DETAILS:
The Gresham Centre


@ St Anne & St Agnes Church,




Gresham Street,




London




EC2V 7BX
Venue Tel: 44+ (0)2077 960 149
EVENT DETAILS:
TIMES:
Please note that this will be an EARLY SHOW : doors open at 6.30pm.
Show: 7pm approx, to finish by
9.30pm.
Venue must be empty by 10pm.
(Residential area)
There is a nice pub around

the

corner - the Lord Raglan - which will be suitable for post-concert drinks!
DRINKS:
There is no licensed bar at the venue, so please Bring Your Own Drinks.
(Please bring plastic glasses, for safety reasons)
LUNA ROSSA ONLINE: