Lunch and Cruise in Budapest
Duna Palota, Budapest.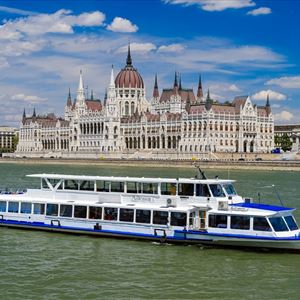 Please be at the meeting point 30 min before the cruise starts (13:30; at Danube Palace, Zríniy Street 5., 1051 Budapest).
More information about Lunch and Cruise in Budapest tickets
Glide along the waters of the Danube River on this 1.5-hour lunch cruise, starting at 14:00 each afternoon. Take in the sights of Budapest's beautiful urban cityscapes, stretching from the Széchenyi Chain Bridge to the Buda Castle. During your afternoon trip you will be treated to a warm buffet lunch. After lunch, step up onto the open upper deck of the ship to enjoy your panoramic view.
If you wish to dine elsewhere, there is three option of the cruise without lunch:
only Cocktails (2 can be choosen from the menu),
only Wine tasting cruise (taste 7 different types of Hungarian wines from variant organic wineries (8 cl))
only Craft Beer cruise (100 ml from each of the 5 Hungarian beer specialties, carefully sorted from the light lager to the strong)