Maid of Ace / The Menstrual Cramps
The Louisiana, Bristol.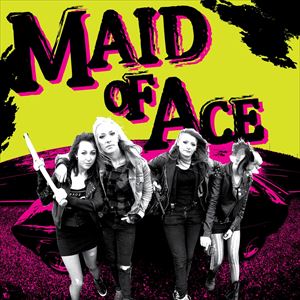 This event is for over 16s only - No refunds will be issued for under 16s.
More information about Maid of Ace / The Menstrual Cramps tickets
Death or Glory Promotions-
https://www.facebook.com/DeathorGloryPromotions/
https://www.facebook.com/maidofaceband/
http://www.maid-of-ace.com/
The four sisters who deliver adrenaline-fueled Punk-Rock; Maid of Ace consisting of Alison Cara Elliott (Lead vocals/Guitar), Anna Coral Elliott (Guitar/Vocals), Amy Catherine Elliott (Bass/Vocals) and Abby Charlotte Elliott (Drums). Marking their first ever show as the bands birth, back in 2005 at the high-school they all attended. Accelerating though years of beers, bruises and ear battery, with life naturally masking their sound. The band started to take things more seriously around 2012, Not long after meeting friend Mark Richards (ex BMX/skate videographer) who DJ'd at the local night-club they all pulled-pints at. They eventually got together and shot their first music video 'Enemy Within'. In 2014 the band Self-released their debut album 'Maid Of Ace', Described by critics as 'Far from perfect but still kicks almost everything else out there square in the nuts!'. Continuing to make a name for themselves across the globe, the hard-hitting siblings have become an indestructible unit and a force to be reckoned with. known best for their live energy, raw sound and Straight-to-the-point Punk Rock. Milestones include their 2014 YouTube hit 'Bone Deth' topping 800k, Playing Glastonbury festival 2015 and their latest record 'Maid In England' earning its place at No 9 in 'Vive Le Rock' Magazine's 'Top 50 Albums of 2016'. The noise is getting louder..Look out world!
https://www.facebook.com/TheMenstrualCramps/
Formed in a broken bedroom in Bristol, on the verge of homelessness, and rife with anger, The Menstrual Cramps were born. Politics on the brain and injustices surrounding them, they jumped ship to a dive in London and recorded their debut album 'We're Not Ovaryacting' on distorted acoustic guitars, calling on the world to 'Save the Badgers', and 'Cull the Tories'. Their debut music video for 'My Bush Ain't Ur Business' was removed from YouTube after some trolls reared their ugly heads and didn't want women to reclaim their own breasts or bodies. This summer they returned bigger and better with their new album, Free Bleedin, which features revolution demanding song 'The Smash', grrrl power anthem 'No Means No', and 'Idols' which approaches the art world's problem with abusers, demanding us to stop idolising our idols and to instead 'Scrutinize Their Trivial Lives'. With their mission to 'Make Girls Feel Good', empower all womxn and end inequality and injustices across the world, The Menstrual Cramps aren't here to take your shit.
Winners of the 2017 Loud Women Hercury Award
Louder Than War called them 'the missing link between Crass and the Spice Girls'
LibFemBlog's Top 5 Kick Ass Feminist Bands
Matchwomen's Festival called them the 'British Pussy Riot'
Overblown's Top 10 Underground Feminist Punk Bands Making A Noise
https://www.facebook.com/The-Liabilities-AD-172298856610762/