Main League Tryouts
Stonebridge Park Leisure Centre, London.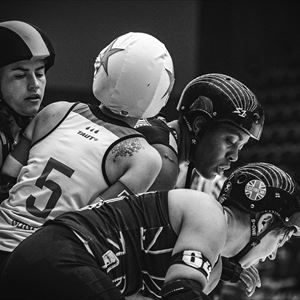 Do you have what it takes to be a London Rollergirl? It's that time again – tryouts for the main league are here! TICKETS ARE ON SALE NOW!

PLEASE READ INFO BELOW!
More information about Main League Tryouts tickets
WHO CAN TRY OUT?
It is expected that you will have had some training in roller derby already, but if you are an excellent skater from another skating discipline who can pick up new skills very quickly, you may try out even if you don't have derby training or scrimmaging experience.
Otherwise:
- You must have had training in derby basic skills so you can stop and fall safely (and more)
- You must have experience scrimmaging and know the rules of roller derby

WHAT WILL TRYOUTS INVOLVE?
Tryouts happen in two phases: you must successfully 'pass' Phase 1 to be invited to Phase 2:
Phase 1 - Sunday session: skating skills, derby skills and strategy drills
Phase 2 - Tuesday session: scrimmage


WHAT TO BRING?
- Water and snacks
- Wear a top with your number clearly marked on the back
- Armbands or sharpie to your number your arms
- All your kit (please remember your mouthguards)

WHEN:
Phase 1 - Sunday 25th March 2018 2-4:30
Bridge Park Community Leisure Centre
Please arrive at 1pm to register & kit up for a 2pm sharp start
Phase 2 - Tuesday 27th March 2018 8-10pm
City of London Academy, Lynton Road
Please arrive at 7.30pm to register & kit up for an 8pm sharp start

NOT ABLE TO ATTEND TRYOUTS?
London Rollergirls will be accepting video submissions for Tryouts.

Please purchase a 'video submission' ticket. Then, email hots@londonrollergirls for details on how to submit your video. You will be expected to send a highlight reel of sorts, or a full game with a list of relevant time stamps where it is easy to identify who you are on the track.

If you are successful via video you will be invited to attend Phase 2 scrimmage in order to assess you further to see if you can enter probation.

DEADLINE FOR VIDEO SUBMISSION: Thursday 22nd of March. Late submissions will not be accepted.

Please note: You must be available in person to attend part two should you be successful in part one. For those who pass both rounds probation will start immediately following your acceptance email. We expect all tryout-ees to be committed to joining main league and available for the probation period and beyond.