Marcus Corbett & Nitin Gaikwad Plus Faeland
Kingskerswell Parish Church, Newton Abbot.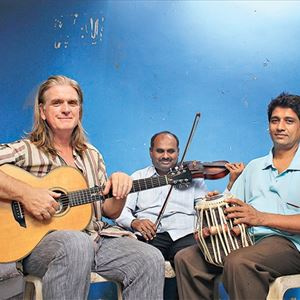 More information about Marcus Corbett & Nitin Gaikwad Plus Faeland tickets
Special Double bill: Marcus Corbett & Nitin Gaikwad Plus Faeland
"With his deep affinity with Indian classical music and his expertise in soulfully conveying its essence on the humble acoustic guitar. ... where other guitar maestros have dipped their toes.... he's taken the integration a stage further and his collaboration with tabla virtuosos Nitin Gaikwad and Sharanappa Guttaragi .. is both fiery and rewarding"
Fatea Magazine
"there is an obvious warmth to Marcus Corbett., with his rich amalgamation of both British and Indian music"
Fiona Talkington, Late Junction, BBC Radio 3
Marcus Corbett is a singer, acoustic guitarist and composer based between the UK and Pune, Maharashtra, India. He has been studying Indian classical music and working with musicians in India for over 10 years, and has released a string of albums, including the most recent two, the acclaimed 'Strung Deep' and 'Every Little Spirit'. His works are a generous spirited cultural collaboration that allows his original compositions to come to life while paying homage to the N. Indian classical tradition he loves. He has created lasting relationships in India with Tabla players, Nitin Gaikwad & Sharanappa Guttaragi from Pune, Maharashtra and Gadag in North Karnataka respectively, and these are the foundation of the project and performance.
The album 'Every Little Spirit' extended the harmonic reach of the music and is an ambitious enterprise as two violins are at work; and as Marcus says "The beautiful challenge in this search is to keep the individual cultural charm, to allow the bell to ring true; and to maintain the power and integrity of the music".
Faeland
"All My Swim is always surprising, never complacent. Just like the best music should be,
in fact"Shire Folk Magazine
"A really fabulous band making glorious folk music"BBC South West
All My Swim is the forthcoming debut LP from Faeland, aka Bristol based folk duo
Jacob Morrison and Rebecca Nelson. Following previous singles We're Just a Love
Song/All My Swim, released on 11th November 2017 and Silent Story/The Wheel on 12th
January 2018. All My Swim has already received acclaim from Uncut Magazine and
Shire Folk Magazine, with further coverage in R2 and a host of others in the pipeline.
The singles have been supported by Gideon Coe and Tom Robinson via BBC 6Music.
All My Swim is a beautiful selection of original, modern folk compositions influenced by
music from both sides of the Atlantic. It gives the duo's personal spin on classic themes
of humanity, such as love, healing, and magic. Despite tackling difficult themes and life
experiences, there is a strong vein of optimism running through the music of Faeland; as
Rebecca says they are "fully committed to making music that changes lives for the
better and adds something good to human existence".