Marrapalooza Festival Entrades
Multiple Venues in Ouseburn Valley, Newcastle Upon Tyne.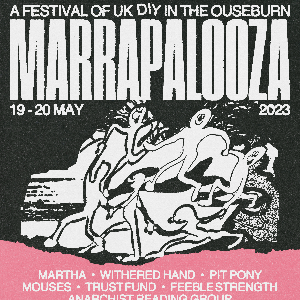 Aquest esdeveniment és només per a majors de 18 anys. No es realitzarà cap reemborsament per a persones menors de 18 anys.
Més informació sobre els tiquets de Marrapalooza Festival
Portions For Foxes and Flat Four Records present

MARRAPALOOZA
A two day festival celebrating the UK DIY music scene in the Ouseburn Valley of Newcastle.
Held at Cluny, Star and Shadow Cinema, Little Buildings and Cumberland Arms. Artists will be continually announced in the coming months. Please visit www.marrapalooza.co.uk and www.instagram.com/p4foxes for details, lineups. Stage times will be announced closer to the vent.
Weekend tickets allow access to both days.
Wristband collection at The Cluny from 7pm 19th May and throughout the festival.
DAY ONE:
Martha + Support
Friday 19th May
@ Cluny 7.30pm

DAY TWO:
Saturday 20th May from 1pm.
@ Cumberland Arms, Little Buildings, Star And Shadow Cinema, Cumberland Arms

Pit Pony
WIthered Hand
Mouses
Trust Fund
Live, Do Nothing
Toodles and the Hectic Pity
Good Grief
Anarchist Reading Group
Efemel
Deadites
Love Music, Hate Racism DJS