Matthews Southern Comfort & Magna Carta
Worthing Piers Southern Pavilion, Worthing.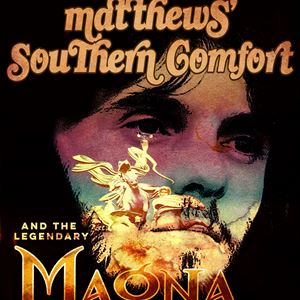 This event is for over 18s only - No refunds will be issued for under 18s.
More information about Matthews Southern Comfort & Magna Carta tickets
Two of the Finest British Folk Rock Bands of all time come to Worthing Piers Southern Pavilion for one night
This is a unreserved cabaret style seating and standing show.
There are pillars that may restrict viewing
Follow us on twitter WorthingPierSouthPav (@WorthingPierPav)
www.worthingpier.co.uk
The building is at the sea end of the pier
MATTHEWS SOUTHERN COMFORT
Iain Matthews is an English musician and songwriter. He was a singer with Fairport Convention before forming his own band, Matthews Southern Comfort, which had a UK number one in 1970 with a cover version of Joni Mitchell's song "Woodstock".
Matthews was known in the 1960s as Ian McDonald, then as Ian Matthews. In 1989, he reverted to the original spelling of his first name.
Influenced by both rock and roll and folk music, he has performed mainly as a solo act, although he was a member of Fairport Convention during the early period when they were heavily influenced by American folk rock. He later had a solo career and led the bands Plainsong, Hi-Fi, No Grey Faith, More Than a Song, and Matthews Southern Comfort.
Matthews Southern Comfort
In 1969 Matthews recorded his debut solo album, Matthews' Southern Comfort, which was rooted in American country music and rockabilly. He made the album with Richard Thompson, Simon Nicol, Ashley Hutchings, guitarist Mark Griffiths, drummer Gerry Conway, pedal steel guitarist Gordon Huntley, and keyboardists Dolly Collins and Roger Coulam. This was his first significant experience as a songwriter, although the band also did cover versions of Neil Young and Ian and Sylvia. He followed it up by forming a working band using the name of his first album, Matthews Southern Comfort (without the apostrophe), then released albums Second Spring and Later That Same Year (1970).
They had major commercial success: a 1970 cover version of "Woodstock" by Joni Mitchell was a number one hit single worldwide.
In 1971, Matthews recorded two solo albums (If You Saw Thro' My Eyes & Tigers Will Survive), on Vertigo Records. Under the sponsorship of former Yardbird Paul Samwell-Smith, and surrounded by likeminded British semi-folkies (notably another ex-Fairporter, Richard Thompson), he formed Plainsong, who signed to Elektra Records.
In 2000 Matthews moved to Amsterdam, where he became involved in independent music projects and collaborations, including the band No Grey Faith and another revival of Plainsong. Moving to Horst in the south of the Netherlands, in 2008 he produced Joy Mining with the Dutch jazz Searing Quartet. In September 2010, he released the first Matthews Southern Comfort album in 40 years and returned to a major record label.
In December 2017, he performed as Matthews Southern Comfort with his Dutch band at the 4th Great British Folk Festival along with Magna Carta at Butlin's Skegness and performed a set of both old and new songs.
Now in 2018 Iain Matthews is back performing a set spanning 50 years.
MAGNA CARTA
Magna Carta was founded in 1969.
The band has seen a number of personnel changes, but the common factor has always been Chris Simpson.
Song writer, poet, acoustic guitar player and vocalist, he has been largely responsible for the band's unique sound, and has had uncanny success in gathering high quality musicians around him.
Arguably one of the greatest acoustic acts in the world, they have transcended the fluctuating fortunes of the music business to remain a superb concert and recording act, surviving for almost 50 years.
What is the secret when so many artists bite the dust and disappear without trace?
Simply, superbly crafted songs; great full length classic works such as Seasons and Lord of the Ages - and all based on a tight twin individual guitar sound and a unique style in vocals.
MAGNA CARTA have performed in 59 countries so far across the world. They have worked with the best and the worst.
Their story is one of the most unique in the contemporary music business; from the deserts to the sea, through the cities and the heartlands around the world their dales based music has been heard.
Simpson's voice, like his songs, has been tried and tested by the road and his guitar playing goes from strength to strength, a style recently described as "one you could recognise from the other side of a football pitch."
The songs speak for themselves and come from the heart - for there is no other way.