Melting Pot 3 - JOE TATTON TRIO Tickets
The Old Woollen, Leeds.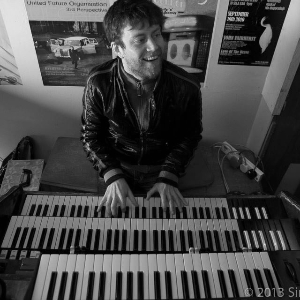 More information about Melting Pot 3 - JOE TATTON TRIO tickets
Friday 20th August - MELTING POT 3

JOE TATTON TRIO & GUESTS
jazz, soul, funk and blues from the New Mastersounds keyboard king
***new vinyl 45 single launch party***
+ DIG Brothers DJs
7pm-11pm - food from 7pm - 2 live sets between.

Legendary Leeds jazz/soul/funk/world music DJ/promotion crew
The DIG Family
pretty much ran things up north from their base in the city from 1985 to 2002. Almost 20 years after the crew split, two of the original members
Gip Dammone
and
Lubi Jovanovic
are now promoting bespoke monthly nights of live bands and spinning the best recorded sounds past and present at The Old Woollen in Farsley. Also Gip's award winning Leeds Italian Restaurant - Salvo's in Headingley - will be running a pop-up at each session. Welcome to
Melting Pot
.
For the third Melting Pot, the DIG Brothers invite an old friend of 20+ years to launch his new single at the Old Woollen.
Joe Tatton has been a member of The New Mastersounds now for 16 years now and has recorded over a dozen albums and many singles with them playing organ, piano and keyboard. Annually, he tours 8-9 months a year with the band, mainly in the USA but also across Europe and Japan too. Prior to joining The New Mastersounds, Joe held down the keyboard role with fellow UK jazz-funk kings The Haggis Horns appearing on their first two albums "Hot Damn!" and "Keep On Movin". He's also featured on piano/keyboards on the worldwide hit single "Put Your Records On" by Corinne Bailey Rae.
Over the years he has played live sets with Maceo Parker and Fred Wesley as well as Art Neville, George Porter Jr and Zigaboo Modeliste of The Meters. He's always maintained his own trio under his own name as a side project, releasing singles and EPs via ATA Records (UK) and Color Red Music (USA).
In all the time playing and touring with the New Mastersounds, he's always maintained his own trio between being on the road. It started out as a homage to his all time musical hero, Mississippi jazz/blues pianist and singer Mose Allison. Allison wrote and sang wry and sardonic songs showcasing modern life with all it's idiosyncrasies in the post-atomic world. He influenced so many great musicians over the years, from Georgie Fame to Van Morrison, Tom Waits to Elvis Costello. The band was called "Joe's Allison" and mainly played a covers set. Over the years, the covers have largely disappeared as Joe replaced them with original material but written in the style of his musical hero. He has been releasing his trio material over the last decade on ATA Records and Colored Records.
A few years ago, he needed to find the time and place to record his latest compositions. So in 2020, between New Mastersounds gigs, he managed to book a few days at a studio near Nashville USA, "The Rockhouse", run by Grammy winning engineer Kevin Mckendree. He hooked up with a couple of Nashville session musicians, Steve Mackie (double bass) and Kenneth Blevins (drums), and put down all his original songs on an album and also a cover of Mose Allison's "Ever since the world ended", the first single of 2021 released back in March.

He releases his second single of 2021 on 20th August and this time there's a lovely double A-side 7" physical vinyl option alongside the digital version. Two tracks that showcase Joe's skills as a pianist and vocalist and confirm his talent for writing quality original compositions. "Stomp" is a New Orleans style funk shuffle while "Timeline" is a witty Mose Allison style observation on the social media that rules our lives today. Joe will have vinyl on sale at this show. It's a very limited pressing so if you love 45s, grab one tonight before they sell out.
The band for this show will be Joe's standard trio with Joe on keys/lead vocals plus a double bass player and drummer and special guests Rodina (vocals) and Sam Bell (percussion). More guests to be confirmed soon.
Before, between and after live sets, DJs Lubi and Gip will be playing all the right music but not necessarily in the right order. A seven decade musical journey across five continents covering past and present jazz, soul, blues and funk music on vinyl.
SALVO'S POP UP KITCHEN

Early doors, the legendary Leeds Italian eaterie Salvo's Restaurant will be running a pop-up cafe serving great Italian food from 7pm onwards. Live music will take place between 8pm and 10.30pm with DJ sets before, between and after two live sets.