Men of North Country - Bedford Esquires
Bedford Esquires, Room 2, Bedford.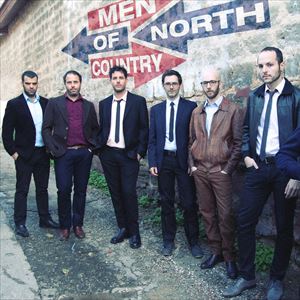 14+ only. 14s to 16s must be accompanied by an adult. No refunds will be given for incorrectly booked tickets.
More information about Men of North Country - Bedford Esquires tickets
We are incredibly excited to be bringing one of the best live bands we saw in 2018 to Esquires. Playing in Room 2 they fuse Soul, Northern Soul and Mod music to produce an incredible live show. Supported by Northampton's Indie/Psychadelic influenced The Keepers, fresh from their appearance at last years Shine festival, it will be a great night.
Tickets are priced at £12 in advance and £14 on the door.
Rock'n'roll from the soul of Tel Aviv.
After a string of successful tours in continental Europe, recording a live session for Craig Charles on BBC Radio 6, and playing the Madness House of Fun weekender, it is time for the soul-boys to tour the UK!
Emerging from Tel Aviv's small soul scene, geared with a fresh approach to creating the perfect three-minute nugget, the sextet that has been described as "Soul with influences of Mod 79 and Punk 77", lived up to the expectations with its sophomore LP for the London based Acid Jazz label. 12 tracks that dare infuse Northern Soul, Post-Punk and Rock'n'roll into heady visions of their city's buildings, streets, bedrooms, clubs and bars, while remaining dedicated to MONC's brass section extravaganza and their firm belief in the power of a great pop song. It's the work of a small collective of music fans in a culturally diverse city.
When hearing the new album, look out for their storming cover version of Lou Pride's Northern Soul classic, I'm Com'un Home (which was already picked up for the Universal released Soul compilation, Express Your Soul), the Craig Charles favourite, Running, and the tribute to obscure Stax singer, Wendy Rene.
The releases are filled with memorable melodies, infectious hooks and refreshingly honest lyrics, which portray the band's love of a genre in which they truly excel. And whilst managing to stay true to their beloved 60s Soul, MONC also introduce a contemporary, fresh and personal twist and even tread some 80s water. Influences worn with pride: The Teardrop Explodes, Style Council and Dexy's, but with an approving nod towards their 60's favourites: Al Wilson, Robert Parker, Gloria Jones and many more.
MONC's records were met with excitement all over Europe's mod and soul scene and were followed by seven successful European tours so far.
http://www.menofnorthcountry.com/
http://www.facebook.com/MenOfNorthCountry
http://www.youtube.com/user/menofnorthcountry/videos
https://soundcloud.com/menofnorthcountry