Meridianum Ensemble featuring Nuno Silva
Kingskerswell Parish Church, Newton Abbot.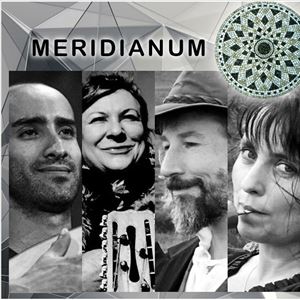 More information about Meridianum Ensemble featuring Nuno Silva tickets
Meridianum Ensemble is a trans-cultural musical collaboration, bringing together elements from Portugal, the UK and Morocco.
Featuring Nuno Silva with his group Aldebaran from Portugal, the project incorporates musicians from Karama (UK/Morocco), The Radial Band and Woodwose (UK).
This ensemble is a feast for the senses, with instruments ranging from the Persian santur, oud, & tambura to nyckelharpa, hurdy-gurdy, bagpipes and dumbek.
Artists:
Nuno Silva: santur
Ricardo de Noronha: percussion
Griselda Sanderson: nyckelharpa
Louis Bingham: tambura, cittern
Soufian Saihi: oud
Steve Tyler: hurdy-gurdy
Katy Marchant: bagpipes
Biographies:
Nuno Silva is one of Portugal's most highly acclaimed artists specialising in Middle Eastern & Mediaeval music, playing oud and santur.
He recently toured with Spain's acclaimed multi-instrumentalist Efren Lopez, and his latest album Espiral was listed as one of the best world music albums of 2017.
His group Aldebaran also includes…Ricardo de Noronha, master of middle-Eastern percussion and maker of his own ethnic flutes based on the Slovakian shepherd's pipe, the fujara.
Ricardo is a founder member of one of Portugal's best-known folk acts Mandràgora and is now resident in the UK.
His latest album Veer was also selected by Transglobal World Music charts as one of 2017's top world music albums. It was a collaboration with…
Griselda Sanderson, ethnic strings player (nyckelharpa, hardanger & fiddle). She is best known for her collaborations with North & West African artists
such as Amadou Diagne, Simo Lagnawi and Juldeh Camara. She has also toured with the Royal Shakespeare Company and in 2015 performed in a season at Shakespeare's Globe. Her most recent solo album 'Radial' gave its name to the group that now includes Ricardo and her longstanding musical partner…
Louis Bingham. Louis studied traditional music on Newcastle's famous folk degree course. He specialises in cittern, bouzouki, tambura and other plucked strings.
He has contributed on many recording due to his versatile and fluid style and is much sought after for live ensemble work. In 2015 he released Curlicue,
his album of traditional Irish & Breton music with flute player Freya Rae.
Soufian Saihi is a Moroccan oud player who studied with Master Hafid Boudribila. While in France he played Arabic-Andalusian music with Algerian a
nd French jazz musicians. He now lives in the UK where he established his multi-ethnic group Karama. Soufian has collaborated many times with Ricardo and joins this project due to his fine musicianship and originality of style.
.