MERRY HELL Tickets
National Forest Folk Club, Moira Near Ashby De La Zouch.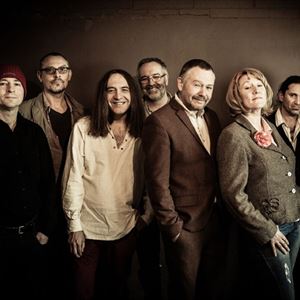 More information about MERRY HELL tickets
Founded in their native North West of England, Merry Hell is an eight-piece folk-rock band with a history, a pedigree and a bright future. In four short years they have risen to become festival favourites, their first two albums finding favour with critics, broadcasters and music fans alike.
They are continuing to develop an enviable reputation for the quality of their song writing, recorded work and live performances.The band was forged in the smouldering embers of 90s Folk/punk band, The Tansads. Following an emotional series of reunion concerts in 2010, its members chose to tread the boards under a new name, 'Merry Hell', in order to reflect their new impetus, new hopes and, most importantly, new songs.
While Merry Hell retains a nucleus of five former Tansads members, brothers John, Bob and Andrew Kettle (guitar, mandolin and vocals respectively), along with keyboard player, Lee Goulding and drummer Andy Jones, the addition of vocalist, Virginia Kettle (wife of John), has helped create a new identity, purpose and spirit, in their music.
October, 2011 saw the release of their debut album, BLINK.. and you miss it to universally excellent reviews, including top ratings in many publications and inclusion in several album of the year listings. As the word spread, the record achieved a stint in the Number 1 slot on the Amazon 'recently popular' chart in the Folk/Rock category.
Merry Hell have developed a reputation as live favourites since 2012, enjoying appearances at many prestigious festivals, including Big Session, Towersey and Wickham.
The band were nominated for a Spiral Earth Award in the 'Best Band' category, and the second album Head Full of Magic, Shoes Full of Rain was released in May, 2013 to similar critical acclaim, gaining 5 star reviews, Album of the Year nominations and awards.
This is a high-energy and probably life-affirming show, and one which we are very happy to bring to Moira for the very first time.