MIAMI - 40TH Anniversary of The Gun Club 2nd album
Westgarth Social Club, Middlesbrough.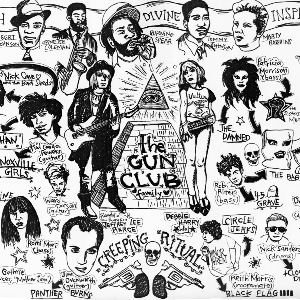 Parking for 8/10 vehicles in the grounds of the club.
Street parking is not enforced on weekends. The club is situated across from the University of Teesside and there are plenty of places to park.
Smoking and drinking are allowed outside the club in the grounds of the venue.
Disabled access - we are in the downstairs room so please contact us if you need any help.
Website: www.bigfigurepromotions.co.uk
Mehr Informationen über MIAMI - 40TH Anniversary of The Gun Club 2nd album Tickets
A tribute to Jeffrey Lee Pierce of The Gun Club celebrating the 40th Anniversary of The Gun Club's second album 'Miami'.
Seven bands will perform on the night as follows:
Veteran Glaswegian garage rockers The Primevals will be making their fourth appearance on Teesside. They played one of our John Peel Festivals a couple of years ago and are led by Michael Rooney who used to run a record stall in the city. They supported Dr Feelgood at the Coatham Bowl in Redcar in 1990 and have always maintained a following in France.
Black Bombers from Birmingham feature Darren Birch & Steve Crittall once of The Godfathers. They played our Lee Brilleaux event back in 2019 and went down really well.
X Ray Cat Trio from Leeds have played the Westgarth on many occasions with their own brand of of surf rock/rockabilly. They have supported bands like 999 and The Urban Voodoo Machine and headlined twice themseleves..
Dead Hombres make their Westgarth debut. Traci Heaslewood the bass player originally comes from Redcar but the band themselves are based in Surrey. They have a sound not too disimilar to The Gun Club.
Local band Johnny Seven formed after seeing The Rezillos at Middlesbrough Rock Garden in 1978. After a couple of years they split-up and wnet their separate ways. They reformed in 2011 supporting The Rezillos in Stockton and have a sound similar to the MC5/Stooges.

The Windom Earles are based in Manchester and have played for us twice befoe. Garage Rock driven by keyboards similar to bands like The Cramps and The Primevals.
The Continental Quilts originate in the Newcastle area and are led by Stephanie Lee Pierce a distant cousin of the main man. Female fronted Garage Rockers who always put on a show.