Midlands Garden Rail Show - Large Scale Model Rail
Warwickshire Exhibition Centre, Leamington Spa.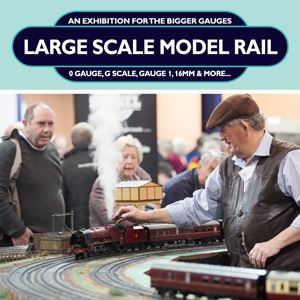 More information about Midlands Garden Rail Show - Large Scale Model Rail tickets
Please call SEE Tickets on 0115 896 0154 if you would like to book a ticket by phone or have any questions when booking your tickets.

NB: Postable tickets will be dispatched from 1 month prior to the opening show date.

The Venue

Warwickshire Exhibition Centre, Fosse Way, Nr Leamington Spa, CV31 1XN On the junction of the A425/B4455

Opening Times

Saturday & Sunday 10.00am - 4.00pm

Visitor Information

There is free parking at the venue for over 2,000 vehicles and a full restaurant.
Postcode for the venue is CV31 1XN.

About the Exhibition

2018 marks the 17th year of The Midlands Garden Rail Show, Large Scale Model Rail, which continues to go from strength to strength and is regarded as one of the leading garden rail exhibitions in the UK.

The exhibition, which will take place at the Warwickshire Exhibition Centre near Leamington Spa, attracts over 2,000 enthusiasts from all over the UK and Europe. Organisers are looking forward to presenting another inspiring exhibition showcasing exciting railway layouts covering the larger gauges and scales.

This exhibition is well supported by leading suppliers. Visitors will see live steam model locomotives hauling coaches and wagons - the real thing in miniature.

For further details on the exhibition and suppliers attending please see www.largescalemodelrail.co.uk.