Mike Grogan + Kadia
Alton Assembly Rooms, Alton.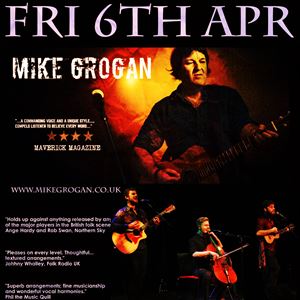 More information about Mike Grogan + Kadia tickets
Two fantastic bookings for your pleasure come to the venue on Friday 6th April.
It's hard to pin Mike Grogan's music down into a single genre, as it touches many such as roots, folk, rock, country. But above all he writes songs with meaning and emotional impact encapsulating the basics and the complexities of the human condition.
Pennyblackmusic commented 'If albums are a reflection of the artist, then Mike Grogan is probably a man to trust'. The material is rich in thought and conviction and is delivered with passion and sincerity. Rock Society Magazine say 'Grogan is a talented songwriter and multi-instrumentalist and his rough hewn voice is ideally suited to the rousing nature of the material…'.
Kadia are a fast rising acoustic trio from Dorset. They perform a galvanizing mix of traditional and cutting edge original folk songs. Combining cello, fingerstyle guitar, and mandolin with stunning three part harmony, they create rich and uplifting music interspersed with history and storytelling. Their live performances have built them a fearsome reputation, and are often described as "sublime" and "unforgettable".
The band have recently released an EP of five traditional songs titled "The Outlandish Collection" after an older variant of the Lady Isabel and the Elf Knight which features on this release. This EP may well be traditional, but the arrangements are incredibly refreshing and unmistakably delivered with the usual Kadia twist. These songs have a long, rich history and some have existed in different guises under various names.