MIKE MASSÉ Billets
Under The Bridge, Fulham, London.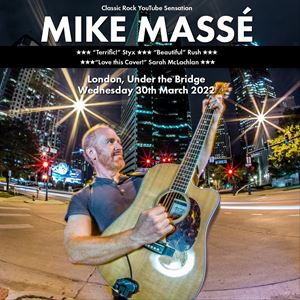 Cet événement est réservé aux personnes de plus de 18 ans. Aucun remboursement ne sera accordé aux personnes de moins de 18 ans.
Plus d'informations sur les billets MIKE MASSÉ
AGMP presents
MIKE MASSÉ
Classic Rock YouTube Sensation
"Toto's favorite cover of 'Africa'" – Yahoo! Music
"Terrific!" – Dennis DeYoung (Styx)
"Love this cover!" – Sarah McLachlan
"Thank you very much! Beautiful. Great job!" – Geddy Lee (Rush)
Don't miss this amazing Mike Massé performing some of the best classic rock songs of all time acoustically: The Beatles, Simon & Garfunkel, U2, Elton John.… His YouTube video views are in the MILLIONS, a really unique talent.
Mike is an internationally acclaimed artist, whose arrangements are praised for their originality and emotional impact. Legends of rock have expressed their love and gratitude for his renditions of their finest works.
This is an opportunity for friends and families to bond over timeless music. Whether you like to sing along or relax and enjoy, this show is for you. From the 60's to the 90's, there will be something in the concert from each era.