Morat
WiZink Center, Madrid, ES.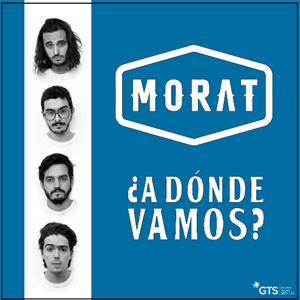 Menores de 16 años deben ir acompañados de un adulto responsable
Under 16s must be accompanied by an adult. No refund will be issued for under 16s.

Where we provide a seating plan for events, every effort is made to show you correct information. Ho...
More information about Morat tickets
Morat - Gira A Dónde Vamos
¨¿A dónde vamos? Tour¨ es el nombre elegido para la nueva gira de Morat 2021, la cual tendrá lugar los próximos meses de agosto y septiembre en España.
En este último año ha habido grandes cambios, y, con ellos, llegan las preguntas sin respuesta que igual hay que hacerse. "¿A dónde vamos?" es la que para ellos más peso tiene, pues nos habla de dónde estábamos parados ayer y cuál es el rumbo que queremos tomar después de estos tiempos tan extraños. Estos 4 colombianos llegan a sorprendernos con este nuevo show, queriendo capturar esta incertidumbre, de lo que tienen preparado de cara a este verano después de una pausa inesperada.
Concierto incluido en la campaña #Conciertoseguro.
¿Qué implica la compra de una entrada para un #Conciertoseguro?
Medidas de seguridad relacionadas con el Covid-19: llegada la fecha de realización del concierto se tomarán por parte del promotor y del recinto las medidas de seguridad impuestas en cada momento por las autoridades competentes para evitar poner en riesgo la salud y seguridad del público asistente. Todas las medidas que vayan a ser implementadas serán previamente comunicadas al comprador a través de los canales de comunicación habituales, así como en la web del propio artista.
Flexibilización en la política de devoluciones por circunstancias directamente vinculadas al Covid-19: Dependiendo de la situación ante la que nos encontremos, podremos diferencias los siguientes escenarios:
Imposibilidad de un comprador de acudir al concierto por razones directamente relacionadas con el Covid-19: aquellos compradores que el día del concierto se vean afectados por circunstancias directamente vinculadas a la pandemia que le impidan acudir al espectáculo tendrán la posibilidad de solicitar la devolución del importe de su entrada poniéndose en contacto Seetickets a través de: https://www.seetickets.com/es/customerservice
Debes completar los campos habilitados en la opción de seguimiento de pedido y nuestro departamento de atención al cliente resolverá tu solicitud.
Aplazamiento del concierto: en caso de que la organización se viera en la situación de tener que aplazar el concierto a una fecha posterior o que tuviera que hacer cualquier otro cambio significativo en las condiciones inicialmente contempladas, el comprador tendrá la posibilidad de conservar la entrada para el nuevo concierto o podrá solicitar la devolución del importe de sus entradas en un plazo de 14 días desde que se comunique el cambio. Toda modificación sustancial que se produzca será trasladada al comprador a través de los canales de comunicación habituales, así como en la web del propio artista.
Cancelación del concierto: en caso de que el organizador se vea obligado a cancelar el concierto, el cliente que haya comprado su entrada de manera online recibirá su dinero de manera automática por la misma vía por la que la adquirió.