MOVE IT Academy
BASE Studios, London.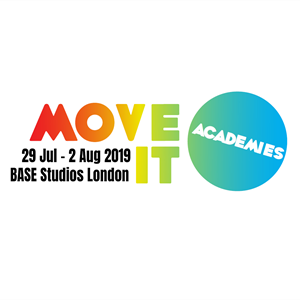 Pay off your deposit/balance
Already purchased a deposit? Pay off your balance here:
Please enter the reference number and email address for the order you placed for the deposit ticket.
Can't find your reference number? Log into our customer service area to see your recent orders.
The first ever MOVE IT Academy takes place on the 29 July - 2 August at BASE Studios London. The programme is curated by globally respected choreographer Lukas McFarlane. Lukas has worked with some of the biggest artists in the world including Taylor Swift, Celine Dion and P!NK.

This five day intensive gives you the chance to train with Lukas alongside top artists that have helped shape him in his incredible career, including the likes of commercial superstar Shaun Niles, artistic director Sarah Dolan and many more.

You will come away from this Academy with improved techniques in various styles, knowledge on important dance related topics and audition tips. Your ticket also unlocks a whole bunch of MOVE IT show benefits PLUS! you may also get the chance to perform on the main stage at the world's biggest dance event in 2020 in a piece choreographed by Lukas himself.

Book now for a summer to remember!
More information about MOVE IT Academy tickets
For any queries regarding your advance booking click here to contact us by visiting the Customer Service area.